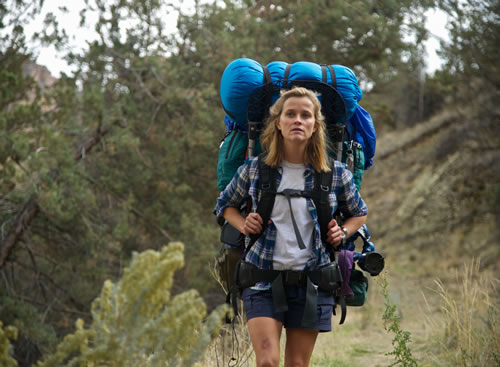 In case you haven't been swept up in this girl-power phenom of a book, and now movie, by Cheryl Strayed…Wild is the story of a woman who takes on a portion of the Pacific Crest Trail (the PCT). The trail runs from Mexico to Canada and is approximately 2,650 miles long. To rid herself of her demons, Cheryl walks a portion of it, about 1,100 miles, from the Mojave Desert in California to Oregon's border with Washington.
You can imagine how interested I was to see the movie (starring Reese Witherspoon) after having done the Snowman Trek. While my hike was "only" 25 days, Cheryl's was three months. Though I didn't start out in the depths of darkness that she did, I could certainly relate to the fortitude it takes to accomplish such a demanding trek.
Though I think Cheryl knows how demanding it will be, she's still quite unprepared to hike the PCT. But not being prepared is what true (mis)adventures are made of, right? So we get to ride along with her.
The pre-PCT Cheryl is a mess. I have to admit I shook my head a lot throughout the book and movie as to how someone could screw up so much. I mean, she's a seemingly level-headed woman who keeps falling into some terrible traps and making really dumb decisions.
But I suppose we are all prone to that now and again (hopefully not to the extent of shooting up heroin!). So the path to self-discovery and accomplishment is something we can all relate to. We just may not take on an 1,100 mile journey to get there.
I couldn't help but be drawn in by her daily ups and downs (literally and figuratively) and her ultimate accomplishment of walking for three months in sometimes quite harsh conditions.

I saw the movie with Jon and remarked to him that this was Reese as a real person. You know. No glitzy makeup, no sparkly clothes. Like one of us. And it was fun to see her that way.
Also…This was the best I've seen of Laura Dern whose role as Cheryl's mother isn't a huge part of the story but she plays it well.
Overall the movie translates well from the book. It had to be difficult to produce a film where your main character is alone most of the time (a la Cast Away). But there are enough other characters, flashbacks and voice-overs in Cheryl's words, that it all comes together.
Whether you've read the book or not, this is a great flick to catch. It's playing in select theaters now (including a few in Seattle).
Be Bold,
Beth
Do you read blogs in Feedly? Click here to add this blog to your Feedly reader.
Disclaimer: Fox Searchlight Pictures sponsored this post but all views are my own.