Many of you probably already know what the TSA Precheck program is, but I recently realized there are a lot of people who still don't yet know about this expedited screening process at the airport.
I'm going to say up front that I do not participate in it. My only objection to it is that you have to be fingerprinted. I've never been fingerprinted and I'd kinda like to keep a perfect record. Having said that, it could very well be a great thing for you.
It should be noted that this is only available in the U.S. but, even then, it's not at all airports. I've also noticed that even at airports where they do offer it, sometimes that particular line is closed. My point being that you could be a participant but find yourself still having to schlep through the regular scanner anyway.
If you have TSA Precheck and are able to go through this line at the airport it means you're going to get expedited screening. The line will go much more quickly because you don't have to take off your shoes and jacket, nor do you have to remove your laptop or liquids from your carry-on bag. You then just walk through a metal detector rather than the full body scanners that most everyone else is walking through.
I admit that it really is quite convenient and I do get kinda giddy when I get randomly chosen for this line as it makes the process of going through security SO much easier.
People I know who have it, love it. And according to the TSA website, there are about a million people registered for the program. My mind leaps to: Yeah, another million people in the government's database that they can keep track of. 🙂
If you're interested, here's the process for getting approved for TSA Precheck:
1. Complete an online application.
2. Schedule an appointment at a TSA Precheck application center. (There are more than 280 centers nationwide.)
3. Visit the TSA Precheck application center, pay the $85 fee, provide valid government identification and have your fingerprints taken.
4. Once completed, a Known Traveler Number will be sent to via U.S. mail or can be obtained online.
Once you have your Known Traveler Number, you add this number to your airline reservation. Your boarding pass will then show your designation as being enrolled in the TSA Precheck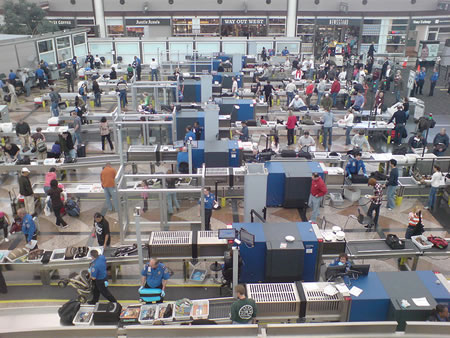 program and you can go directly to this line at the airport.
You might be lucky enough to get randomly chosen for the TSA Precheck line.
TSA Risk Assessments uses Secure Flight Data supplied to TSA which allows passengers to access the TSA Precheck screening lane on a random basis. This has happened to me a couple of times when I've seen the designation on my boarding pass. This means I can go directly to the precheck lane.
I've also been randomly chosen once at the airport to go through this lane.
So, yeah, if you're a frequent flyer, you might think about forking over the $85 and your fingerprints to use this service. I get that it's totally convenient but it just isn't for me right now. Call me a conspiracy theorist but…
Be Bold,
Beth
Want another perspective on TSA Precheck? Check out this post from Pat Awmack on the WanderTours' blog.
Want to stay up-to-date on all things Wanderlust? Follow me on Facebook, Twitter or RSS/email.
Photo credit:
Airport security – Dan Paluska via Flickr