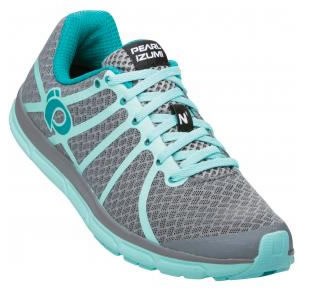 Now that I've really gotten into the habit of running and am training for the Honolulu Marathon, I'm learning a lot about my body, the sport and the gear that works best for me.
My recent "aha" moment was realizing that, depending on conditions and the length of my run, my gear needs might change. An obvious example is wearing a long sleeve shirt in the winter, a tank top in the summer.
What I wasn't expecting was that my feet might have different needs based on the length of my runs.
For the past few years, I've been running in Vibram five-finger shoes. I really like these. Not only are they easy to pack (the main reason for me joining the "barefoot" running craze to begin with) but I like running close to the ground and don't mind feeling the pavement or odd pebble underneath my foot.
Having said that, once I started running long distances (10+ miles), I noticed my feet and calves were getting fatigued after those long runs. So, I switched over to Pearl Izumi N1 shoes. While these aren't minimalist or barefoot shoes, they are relatively close to the ground with just a difference of 1mm – 4.5mm from heel to mid-stance.
This seems to have provided just enough cushioning for me that I no longer have soreness after my long runs.
The uppers are made of a mesh which allows my feet to breath if I'm running in warm weather. Even though these might initially feel cool during a run in moderate to cool temperatures, my feet will quickly warm up and I appreciate the breathability these provide.
While these don't pack down nearly as much as my Vibrams, they are lightweight (7.4 ounces) so at least they aren't weighing down my luggage. And I just stuff items inside the shoes to save space.
There really are so many styles of running shoes out there and no one style that's perfect for everyone. Therefore, I encourage you to at least check these out and see if they are a good fit for you.
By the way, they're excellent as walking shoes, too. I actually spent a lot of time just taking long walks in these before I started running in them.
The Pearl Izumi N1s come in two color combinations: Aruba Blue/Deep Peacock (pictured) and Living Coral/Rose Violet.
Available on Amazon for various prices depending on color and size.
Be Bold,
Beth
Want to stay up-to-date on all things Wanderlust? Follow me on Facebook, Twitter or RSS/email.
Disclosure: Pearl Izumi provided these shoes to me for review. Regardless, everything I have said in the post reflects my honest opinions.