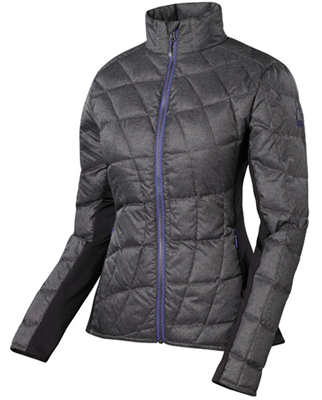 My biggest concern when I hike the Snowman Trek later this year, is staying warm. We'll be up as high as 18,000 feet. There are 11 passes total with many of them over 16,000 feet. Whoa.
Having done a portion of this trek already, I know what it feels like (not good) to sleep in a tent when it's literally freezing outside and you have to get up and go in the absolute cold.
So, the hunt is on for gear and clothes that will not only keep me warm at altitude and on days when it's just bloody cold out but for items that will also pack down into my day bag when the sun comes out and day gets warmer. I still need to do a bit more testing with this, but I'm hoping the Sierra Designs Capiz Jacket might be a good answer to my hunt.
Sierra Designs' proprietary DriDown has a treated finish on the down that keeps the down drier longer and allows it to dry faster. So on days when we encounter rain and/or snow, in theory at least, I'll be staying warm and dry.
So far, the Capiz has proven to be an excellent under layer for me. It's form fitting so it's snug against my body but it's got nylon/spandex stretch knit on the side and in the arms which means I've got a lot of flexibility in movement.
It is warm but not in a down comforter kind of way. On a cool day (in the low 50's) it keeps my core feelin' pretty good. And if it's raining, I can pull a light rain jacket on over it and I am indeed warm and dry. Anything cooler than in the 50's though, and I need something heavier over or under the jacket.
This might prove to be OK in the Himalayas. Because the jacket does pack down quite small, it means that I can carry it in my day bag and use it as a layering piece depending on altitude and weather.
What I Love
Very feminine fit. They did well with this.
Definitely great layering piece for warmth underneath a rain jacket.
Zippered pockets are well placed and comfortable to slip my hands into.
Interior pockets on either side (I can't figure out why more jackets don't have interior pockets – I love 'em).
Not So Much
It's missing thumb holes. It really needs thumb holes.
The sizing is such that if I am to layer, I can only really wear this underneath other clothes. The arm and waist length are on the long side (meaning I can't go up a size) but the chest, when the jacket is zippered, is a bit tight.
The Capriz retails for about $200 but is available on Amazon starting at about $100 depending on size, color and availability.
I'll definitely get back to you once I determine exactly what's going to stay on my packing list for the Snowman Trek. Will it be the Capiz? We shall see :-).
Travel Well,
Beth
Related links:
Ice Breaker Viento Jacket
Mountain Hardwear Plasmic Jacket
Fjallraven Luhkka Jacket