March 15th is Everything You Think is Wrong Day. I want to take a moment to explore two aspects of this. The first is how my assumptions about opting out of the fully body scanners were wrong. The second aspect is how important it is to actually think and make conscious choices.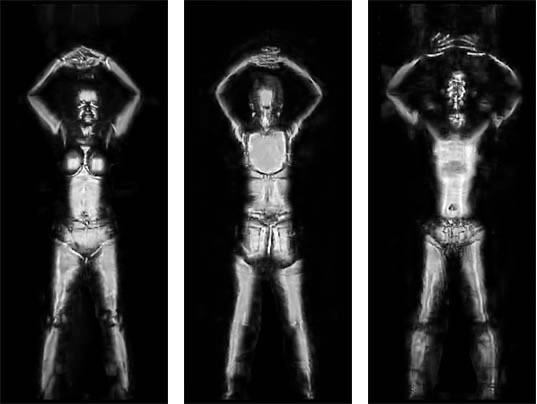 Last week at Sea-Tac airport, on my way to Kauai, I had my first opportunity to opt out of the full body scanner (also called back scatter scanner). I've written other posts about the health effects of the full body scanners and how the full body scanners effect women.
It appears that Sea-Tac was one of the last airports to have theirs up and running and I've been fortunate to never have had to opt out in Seattle or elsewhere. Until now.
First, here's what happens when you opt out:
Once you've put all of your items on the security belt, you're asked to pass through the full body scanner. A TSA agent stands there directing you to walk through. If you say that you'd like to opt out, he or she yells to someone, "Opt out." The agent then reads from a little card a statement about the process you're about to undergo for the patdown.
You're walked through the archway of the electronic screener and then asked to identify your bag(s) and the bucket(s) that contain your personal items.
You're then taken to a public area at the end of the screening belt by an agent who, in great detail, describes the full body patdown you are about to experience.
You can ask to be patted down in a private room.
You might recall late last year the guy who was taken into custody after he told the TSA agent not to touch his junk during the patdown? That and the ensuing hubbub around Thanksgiving where travelers were encouraged to opt out, put the whole screening process, and TSA agents, in a bad light. And more recently I've heard anecdotes from friends who've had unpleasant experiences with the patdown process.
So it was with some trepidation that I opted out.
But here's my experience, based on my one opt out as well as witnessing Jon's opt out (see photo right) in Hawaii.
Jon was in front of me at Sea-Tac and had already opted out. After I placed my items on the screening belt, I also asked for an opt out. The TSA agent yelled out, "Opt out," and another agent standing at the screening area gave an audible sigh, as though this was going to be a hassle for her. (In reality, she had nothing to do with the process but was none-the-less annoyed.)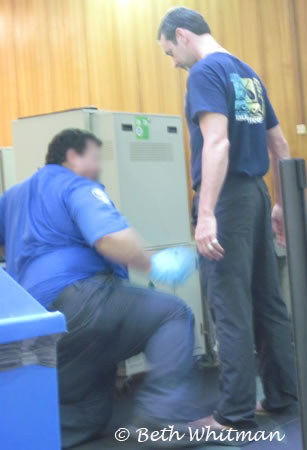 After I passed through and identified my items, a very nice woman took me aside and explained the patdown process to me. She said she was going to run her hands over and underneath my breasts, around the inside waistline of my pants – front and back – and run her hands up my inseam and down the outside of my legs.
I asked if it was possible to do this in private. She was more than accommodating and we moved all of my items into a little room where another female agent joined us as a witness.
The process WAS intrusive but I had expected that. The agent doing the patdown was very nice throughout the process – and I wasn't expecting that.
Jon has had the unfortunate opportunity to opt out far more times than I and said he's had the same experience — that the TSA agents have all been very nice throughout the process.
When we were departing Kauai, again he was in front of me. He requested the opt out. It was my good fortune that the agent closed the entrance to the scanner after that (I think just for a short break) and I walked through the electronic system instead. Phew.
So, why do I opt out?
Good question. The fully body scanners emit radiation. There hasn't been proper testing to show what sort of harm/damage this amount of radiation might do to a person. But the TSA warns that children and pregnant women should not walk through them. So what does that say about the system?
Look, I question my dentist every time an x-ray is suggested – why would I submit myself to something that isn't absolutely necessary, such as the full body scanner? And while frequent travelers should particularly consider opting out due to the potential health risks, no one should feel uncomfortable in opting out.
So, to get back to March 15th, I admit that I was wrong in thinking that opting out meant that I was (literally) going to be in the hands of some grouchy TSA agents. I wasn't – they were quite nice. But I also want to stress that opting out IS an option for you! You should give this conscious thought and make a choice – don't just assume that you have to do what everyone else is doing. And while process is somewhat intrusive, the agents have been well trained in customer service.
I haven't seen one other person opt out of the full body scanner in my travels over the last 6 months when these have really been in use. Do I think that people don't care? No, I just think they aren't informed about the potential hazards, nor do they realize they have options.
Next time – please think. I don't care if you go through the scanner or not, just make sure that you're making a conscious choice.