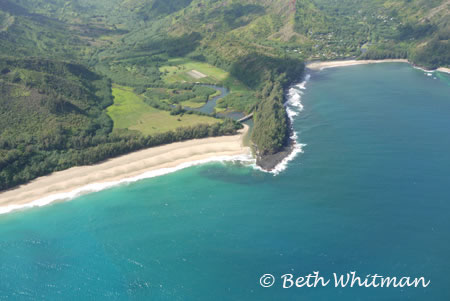 I think I used "it's bad for the environment" as an excuse not to take a helicopter ride for a long time. I think the real reason I avoided them was "I'm scared outta my pants."
But after hearing several people tell me how transformative the experience was, I figured I would give it a shot.
On our first day in Kauai, we headed out on a Jack Harter Helicopter tour. Departing from the Lihue airport, in the south, we circled the island clockwise. We flew over Waimea Canyon, along the Napali Coast, over the North Shore and back down the east side.
The initial liftoff left me breathless and thinking, "I feel like I'm in a hovercraft." And then I realized I was in a hovercraft. Fortunately, I was in a center seat of a helicopter without doors. Everyone else was feeling the wind full-on while I sat comfortably nestled between Chris, the pilot, and Jane, another flier.
Here's the tour: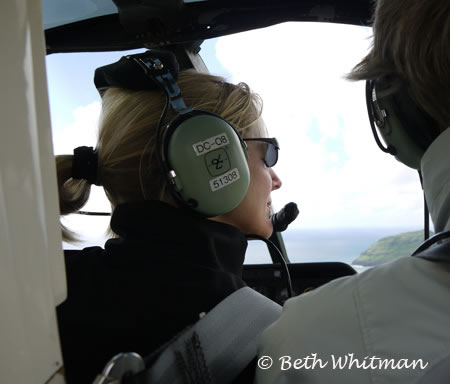 That's ME on a helicopter! Wow – I'm really doing it (and not sweating, either). We all wore big ole headphones and could hear commentary from the pilot throughout the tour. We could also ask questions (but it was a bit hard to be heard).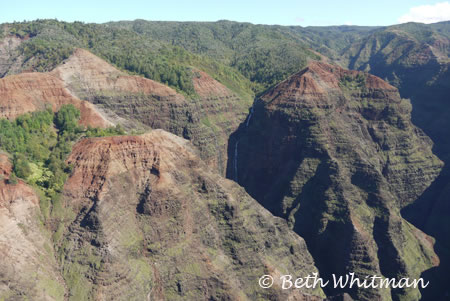 Waimea Canyon is known as the Grand Canyon of the Pacific Rim. Flying over the canyon is nothing less than stunning. The canyon is 10 miles long and 3,000 miles deep. While I've seen this while hiking through the area, it's a completely different perspective from above.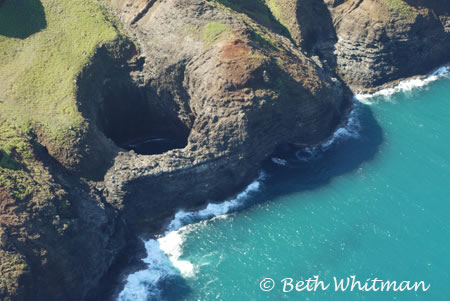 Looking down, you can see this cave and a boat entering inside. From the shoreline, it's hard to see just how blue the water is, but from above, a miracle.
Jon and I, after the ride, with our pilot and helicopter.
So, when all was said and done, was I scared outta my pants? Not quite. I went from WOW, to feeling a bit scared when the winds whipped up about 10 minutes into it, to being completely relaxed and wishing that it wouldn't end. Would I recommend it? Absolutely!
Not all helicopter charters offer door-less flights. If you have the chance, like with Jack Harter, I highly recommend it. The slightly higher price is… well, priceless!
Interested in your own tour? Check out:
Jack Harter Helicopter Tours
4231 Ahukini Rd.
Lihue, Kauai
(888) 245-2001
See other lovely photos at DeliciousBaby!
Travel Well!
Beth
Related links:
Room with a View: Kauai
Kauai Coasts
Lost on Kauai