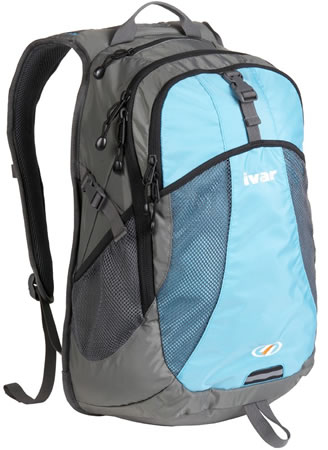 Last week while in Kauai, I brought along a new (to me) daybag to test out. This is the Revel G2 from Ivar.
The Ivar Revel G2 daybag utilizes an interior shelf system so that items don't all fall to the bottom of your pack which can create an uneven weight distribution and, ultimately, make it uncomfortable for you to carry.
Though this patented style makes for a slightly bulky bag, I found that despite me filling it with almost as much stuff as my main carry-on bag, it felt relatively light on my back.
There's a separate padded laptop compartment that's got a Velcroed lid to help protect your computer (though this does create an extra step when you've got to pull it out at security screening). And in the front of the main compartment, there's an area that can easily hold books and magazines. In other words, plenty of room for what you'd need for a full day out.
One of my favorite pouches is found in the very
back of the bag. This shorter "shelf" is the perfect size for my Bose headphones – it means that they don't get buried in the bottom of the main compartment and they are easy to reach once I get on my flight.
The very front zippered pocket includes a zippered interior pocket (great for loose change) as well as lots of smaller slip-in pockets for pens, business cards, an iPod, phone and more. I found these helpful in keeping all of my smaller items separated and organized.
The bottom of the bag sits relatively flat, so it's easy to stack things across it so they aren't all bunched up together.
One thing I did notice is that the mesh pockets located in the very front of the bag started to pull away from the body of the bag just a bit. I'm not hugely concerned about it, but it's not what I'd expect after a week of usage.
Overall, I think this is not only ideal for those who like to stay organized, but it's a pretty good bag if you are like me, with a daybag that weighs as much as your luggage! You'll want it to be comfortable on your back – and this is.
It has all the usual features of a daybag that you can go hiking with – including chest and waist straps for extra support. And with the padded space for a laptop and space for books, it seems like it would be a good bag for students to carry around everything they'd need for a day of classes.
Travel Well,
Beth
Related links:
Haiku Bags
Ellington Annie Convertible Tote
GoLite TraveLite Messenger Bag