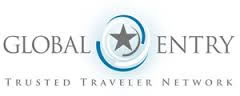 A couple of weeks ago, I wrote about TSA Precheck when I realized that not everyone knows what this expedited screening process is. But what goes hand in hand with TSA Precheck is Global Entry, another expedited program. This one allows you to get through customs lines in the U.S. upon arrival on an international flight.
While TSA Precheck ushers you through security at U.S. airports when you're departing, Global Entry ushers you through customs on your return to the U.S. It is, without question, a way to make your international travel experience smoother and more pleasant. Special bonus–you also get to use the TSA Precheck lines as a Global Entry member. So if you travel both domestically and internationally, it pays to go for Global Entry and get the perks of both programs.
Signing up with Global Entry eliminates more than lines, though–you are also spared paperwork (at least in paper form). Skip the cards or forms and proceed straight to an automated kiosk.
At the kiosk, you scan your passport or U.S. permanent resident card, scan your fingerprints to make sure they match with what you provided during the application process, and complete your customs form right on the machine. You then get a receipt and can go on your merry way. The entire process usually takes just minutes.
Also like Precheck, to be granted the privilege of fewer lines, you'll need to undergo a pre-approval process–namely, a pretty in-depth background check and an interview.
It would make sense that I would have Global Entry, right? But as I noted in my TSA Precheck post, I won't apply for It because it requires being fingerprinted. I've never been fingerprinted and I'd kinda like to keep a perfect record. 🙂
To be eligible, you must be a U.S. citizen or permanent resident with no criminal charges, customs or immigration violations, or any number of other offenses that might disqualify you as a "low-risk" traveler. Citizens of some other countries can also qualify too, including Germany, the Netherlands, Panama, South Korea and Mexico. Canadians can look to the NEXUS program to take part in Global Entry.
Each participant must do their own application. Only Global Entry participants can use the kiosks, and this applies to kids–if you want to bring them through with you, make sure you sign them up too.
Here are the steps you'll need to go through to apply:
– Apply online through the Global Online Enrollment System (or GOES). You'll need to pay a one-time application fee of $100. Whether you're accepted into the program or not, you won't see this $100 again so make sure you read about who's eligible.
– Set up an interview at one of the Global Entry Enrollment Centers–there are many of these all around the U.S., often not far from major, participating airports or major border crossings.
– Bring your passport and a secondary ID (such as a driver's license). If you're a permanent resident, bring your permanent resident card. Make sure none of your IDs are expired!
– During your interview, a customs officer will take your photo and your fingerprints, and ask you a few questions.
– This interview will determine whether you're in or not.
– You will have to renew your Global Entry after five years and pay for another application fee, but you may or may not need to do another interview. That info will be in your GOES account.
Of course, as with Precheck, Global Entry only works at participating airports. Fortunately, most major entry points are on the list.
When all is said and done, there's no guarantee that you still won't have to chat with a customs officer. If you declared something, your fingerprints didn't match what was in the system, you got flagged for a random inspection or any other flags are raised, you'll be directed to an officer. The perk of this potential part of the process–Global Entry participants don't have to wait in line. If the automated kiosks are out of order, you also get head-of-the-line privileges. You'll know if you're required to chat with an officer if the receipt that prints out has an X or and O on it.
What do you think? Sound like something you'd like to participate in?
Be Bold,
Beth
Want to stay up-to-date on all things Wanderlust? Follow me on Facebook, Twitter or RSS/email.