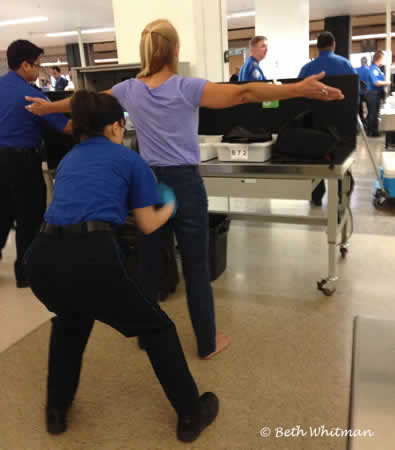 I've written the past couple of weeks about the TSA Pre✓ program and the Global Entry program. Both are great for frequent travelers who want to get through lines at the airport more quickly.
If you're like me, however, you'll avoid these programs because you must be fingerprinted in order to be part of them. Call me (and Edward Snowden) crazy but I'd prefer to keep my prints out of any national database. The government has access to enough knowledge about me without having that info, too. 🙂
To take things one step further, when I arrive at the airport, I opt out of going through the full body scanners. Instead, I endure a hands-on pat down by a female TSA agent.
Opting out is a choice I make.
I began opting out when the backscatter scanners were first installed. These were rushed into implementation so quickly that not enough research had gone into the affects of these machines on the human body. When something is deemed unsafe for children and pregnant women, it can't be great for the general population, can it?
These backscatter scanners were then replaced–for both privacy and health issues and at a cost of about 45 million dollars–by millimeter wave scanners. Theses are the machines you now walk through at airport security in most US airports. What many people don't realize is that this is also a form of radiation and that, still, not enough research has gone into the affects of these machines on the human body.
While the millimeter wave scanners, as these are called, have not been thoroughly tested on humans, the affects of terahertz waves, which these scanners use, have been confirmed to cause DNA damage. That information came from a study published by Los Alamos National Labs. You know, the place where they developed the first nuclear weapon? Those folks know a thing or two about radiation!
As noted in this article from the MIT Technology Review, "…although the forces generated are tiny, resonant effects allow THz waves to unzip double-stranded DNA, creating bubbles in the double strand that could significantly interfere with processes such as gene expression and DNA replication."
The argument could be made, as someone said in this lively discussion on my Facebook page, that I'm exposed to lots of other forms of radiation so why not just get over it and go through these scanners. My point is that if I have the ability to opt out, why not exercise that right?
I question dentists, doctors and chiropractors every time they suggest I need an x-ray. More often than not, they back off and admit that it isn't absolutely necessary to accurately treat me. If I question my doctors, why would I then just walk through a radiation machine that has now been proven to cause DNA damage?
Many people don't realize they have the ability to opt out. And all I'm saying is that we have choices. Are you going to get cancer because you've walked through one of these millimeter wave machines two, eight or dozens of times in a year? Probably not. But the truth is we likely won't ever know.
Look, I eat well (vegetarian for 25 years!) and exercise daily. I limit my intake of sugar, alcohol and processed foods. So if I have a choice not to expose myself to something unhealthy (especially an unknown like the millimeter wave scanners), I take the healthy route.
Do I think the full body scanners are safe? Probably not. But I don't see them going away anytime soon. Until then, I'll continue to opt out.
Do you opt out?
Be Bold,
Beth
Want to stay up-to-date on all things Wanderlust? Follow me on Facebook, Twitter or RSS/email.