We were all very grateful for the break on Day 4 of of the Merak & Sakten trek in Eastern Bhutan after having trekked for 13 hours on Day 3. Mentally, it gave us a chance to prepare for another long day in the Himalayas. Luckily on Day 5 we weren't trekking in the dark nor in the rain!
Instead, Day 5 brought sunshine, warm weather and the some of the most beautiful hiking I might have ever encountered. All along when I had been daydreaming about this trek, I kept thinking that we would be encountering "sunny and 70." We finally found it!
Heading out of Sakten on Day 5, we looked back  upon the valley where the snaking river was below and this little covered walkway (above) sat atop the hill.
This day was, once again, a long day but we "only" hiked for about 8 hours (16 miles according to my pedometer, but it was likely a bit less). Much of it was downhill and we followed the river most of the way. This raging river often drowned any chance of us talking with each other and kept us tuned in to the natural beauty of the Himalayas.
I spent much of the time singing – often quite loudly since no one could hear me – and went through the repertoire of songs I could remember from my iPod (Suzanne Vega, the Indigo Girls, REM…).
We passed lots of locals – herders and farmers carrying loads of produce as well as construction workers (below), all heading to Sakten before the weather got too cold to make such a trek.
Horses, yaks and people – men AND women – were laden with goods.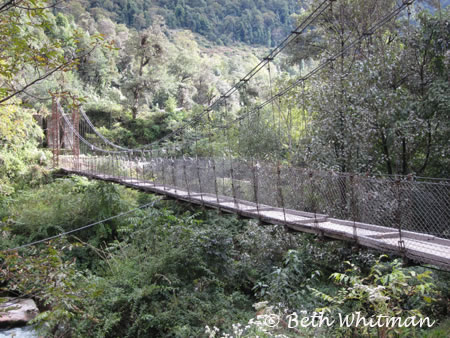 After hiking through this beautiful area and along numerous suspension bridges, we did arrive quite late in the afternoon, around 5 p.m., just as the dark, rain and thunder hit the area.
But we woke up on the final day to this view of our tents and the mountains.
Come back to find out about our last day of trekking…
Travel Well!
Beth
Related Links:
Eastern Bhutan's Brokpa People
Eastern Bhutan Merak & Sakten Trek Day 4
Eastern Bhutan Merak & Sakten Trek Day 3
Eastern Bhutan Merak & Sakten Trek Day 2
Eastern Bhutan Merak & Sakten Trek Day 1
Bhutan Tours