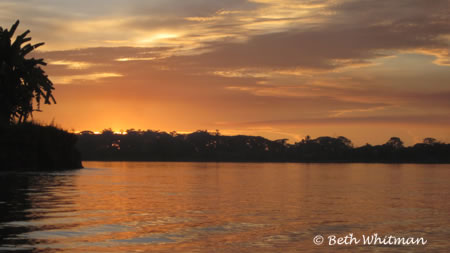 The Sepik River in the northern part of Papua New Guinea is the longest river in the country. It flows, in a northwestern fashion, from the west of the country, spilling briefly into Indonesia's Papua, and then eastward into the Bismarck Sea. It's not a swift flowing river, but it's mighty. And it is SO easy to get lost as there are tributaries that branch off in many directions.
It's also stunning and rich with wildlife – mostly birds and crocodiles.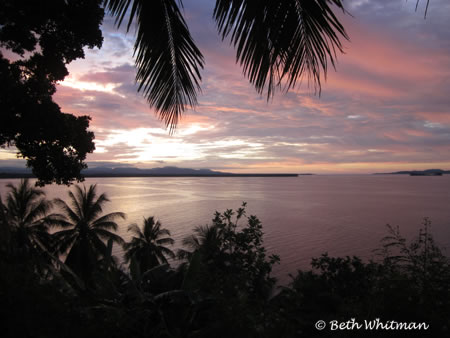 Depending on the day and the clouds, the sunsets will be dramatically different.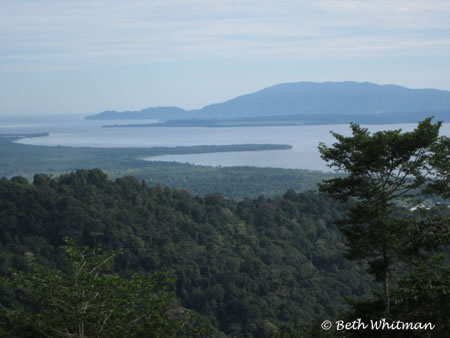 This gives you a good sense as to how it stretches out over 700 miles.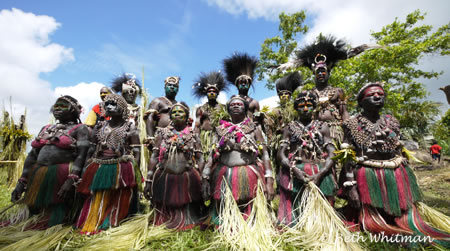 In August, there is a festival (singsing) along the Sepik called the Crocodile Festival. Tribes from around the region come to perform – singing and dancing in their traditional outfits. They are all really quite proud and are not shy at all about posing for cameras.
I'm endlessly fascinated by the people of Papua New Guinea, like this man, donning a large shell around his neck and feathers and shells tucked into his headpiece. What is not to love?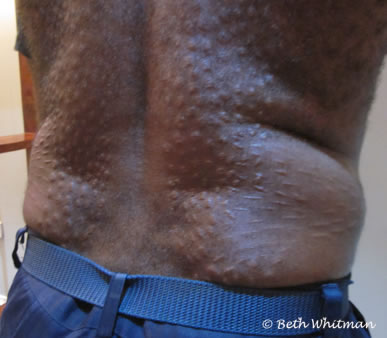 What's also fascinating to me is that the people in this region affiliate very closely with the crocodiles that inhabit the waters. So much so that young men submit to a very painful cutting ceremony. They have their backs sliced and diced to emulate the crocodile. Above is a photo of our guide who had his done many years. But I've also seen cuttings of young boys just after the ceremony while it was still healing. Not quite gruesome but not pretty to look at.
I don't think I'll ever tire of learning about this country that has about 850 distinct tribal groups. An outsider can never full understand the culture(s) but if you're interested in learning more, I have a list of books about Papua New Guinea. And, if you are so fascinated that, like me, you just can't stay away, consider joining our Mt. Hagen Show Tour in August.
Travel Well,
Beth
Related links:
Huli Fortune Teller – Papua New Guinea
Huli Wigmen of Tari – Papua New Guinea
Mt. Hagen Festival – Papua New Guinea