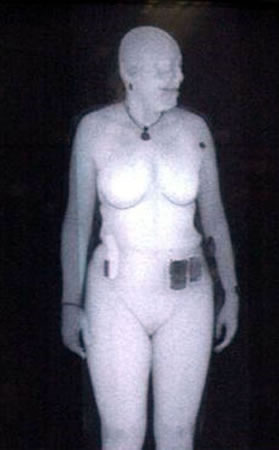 There's been a lot of controversy surrounding the use of backscatter scanners at airports since their introduction in 2010. I've written about the potential hazards and why you should consider opting out. I've always maintained that if something comes with a warning that pregnant women and children should not be exposed to it (like the backscatter scanner), how could it possibly be safe for me (especially as a frequent traveler)?
Recently, Congress mandated that body imaging technology at airports be replaced but their reasoning is based on the privacy concerns expressed by many who want a less revealing option than the current backscatter scanners (see photo left). It appears that the software that might be developed for the current machines can't be completed by the June 1 deadline so backscatter scanners will replaced with millimeter wave scanners.
Here's the difference between backscatter scanners and millimeter wave scanners.
The millimeter wave scanners provide a scant outline of your body rather than a full-on x-ray version. At right is a side by side comparison between the backscatter and the millimeter wave scanner.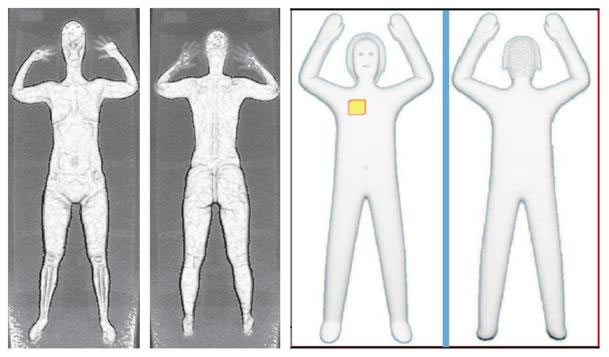 More importantly to me is the fact that the backscatter scanners use ionizing radiation which is known to break chemical bonds. It's a known carcinogen (though in small doses is considered to be safe). But because they are not used for medical purposes, they are not regulated by the FDA the way your dentist's x-ray machine might be. So there's no oversight in terms of their safety.
The millimeter wave scanner on the other hand, emits non-ionizing radiation and therefore is believed to not damage DNA.
While the official line is that these are being replaced due to privacy issues, it could be that the government is finally paying attention to concerns from scientists and the general public about the potential hazards of the radiation.
So what will happen to the $40 million in backscatter scanner equipment? Will they go the way of the early electric cars? Nah. According to this article, it's likely they will be sent to federal buildings and other government agencies. So don't think you're going to get off the hook that easily. If you're like me and opt-out, you'll still have a chance to get groped when you go to jury duty.
And let's just hope no one gets the idea to use them in schools to stop gun usage.
Travel Well,
Beth