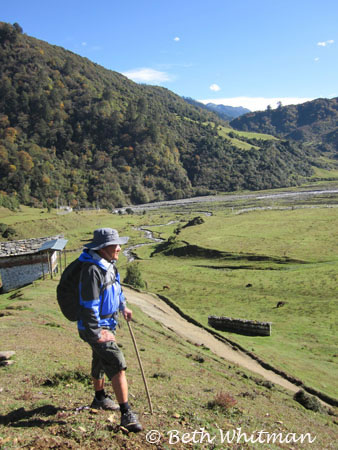 This was my neighbor's take on my travels over the coming weeks. Beth's in Bangkok, Bhutan and Burma. Exactly.
It is a busy few weeks for B but I have a feeling of excitement that I haven't had in a long time because much of these travels will be completely new for me.
While this is my 6th time to Bhutan, it's my first time on the Laya Trek. Having trekked in Eastern Bhutan last year, I know more or less what I'm getting into and this trip has me excited and nervous. I'm excited because I know how breathtakingly beautiful hiking in the Himalayas is going to be. But I also know it won't be easy – between the altitude, the potential for rain (which brings mud and leeches), the long days and the possibility of snow, I've also got  a feeling of trepidation. I suppose that sometimes it's easier not knowing what to expect 🙂
The King is getting married during this trip so there will be an unusually high level of excitement as the Bhutanese revere their King.
After Bhutan, I head off to Burma for a week to research a tour for 2012. I'll be hitting the popular spots that are on most tourist itineraries: Yangon, Mandalay and Bagan.
I ran into a friend just before I left who said Bagan was transformative for him and he ranked it up there with visiting the Taj Mahal and Machu Picchu. I'm lowering my expectations because I want to be pleasantly surprised. (It's the same reason I don't like reading reviews of a movie – I want to make my own judgement without someone else's experience in my head.)
Bangkok is my hub for this trip – I'm popping in and out of the city between countries. I have mixed feelings about Bangkok. It's a polluted, traffic-congested metropolis filled with old men from Western countries on the prowl for relationships (short and long term) with young Thai women. But it's also filled with an amazing amount of culture, exquisite Buddhist temples, saffron-robed monks and street food to die for. Oh, and how could I forget the massages – of which I usually indulge in a foot massage each day that I'm in town. (Yesterday marked the discovery of a luxury spa where I enjoyed a 2-hour foot massage for about $15.)
So, B's in Bangkok and leaving for Bhutan in hours. Other than occasional posts that have been queued up, I'll be offline for the majority of my time in Bhutan – no power or internet in the Himalayas after all. And potentially offline in Burma as internet is spotty there to say the least.
So off I go for new adventures. Jetlagged and hardly sleeping. Excited as ever. And eager to share when I get back!
Travel Well!
Beth