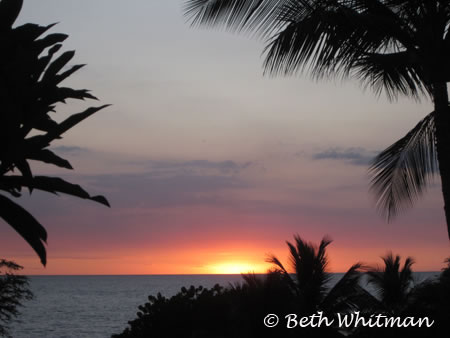 I remember the first time I ever saw the sun set over the ocean. I had traveled from New Jersey to San Diego during a 3-month trip to see the country. Watching the sun drop below the water, I wanted to clap. That was 25 years ago. But seeing a setting sun still makes me feel the same – it's so beautiful that I want to give it a big cheer.
Above is the sun setting on the Kohala Coast on the Big Island of Hawaii. This was taken from the grounds of our hotel, the Hapuna Beach Prince Hotel. It's easy to understand why people get married in outdoor ceremonies here – it's a perfect place to exchange vows, if you're so inclined to do those sorts of things 🙂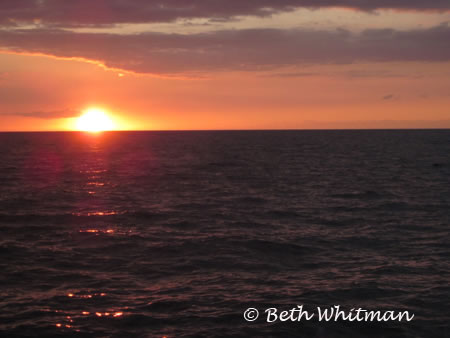 It didn't matter where we were, seemed the sunset was always spectacular. This is from our boat during a sunset Champagne cruise with Ocean Sports.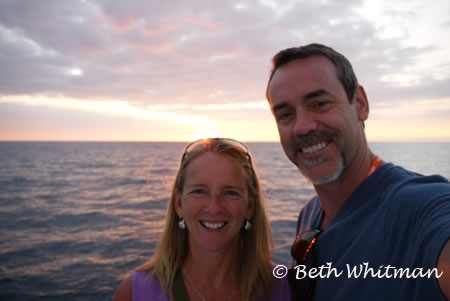 Yeah, baby. Looking pretty relaxed, I'd say!
Back on the mainland and in Seattle, it's all rain and gray right now. But I'm off to Bangkok/Bhutan/Burma. I likely won't see any dramatic setting suns, but expect dramatic mountains and temples.
Travel Well!
Beth
Related links:
Best Kauai Restaurants
Flying High on Kauai
Limahuli Gardens Kauai