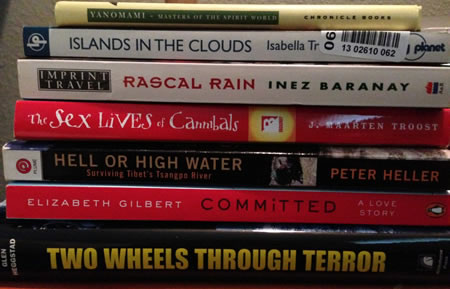 These are the books currently stacked up on my nightstand.
One of my New Year's Resolutions this year is to read more. I don't mean blogs and Facebook posts. I mean books. Whether in the physical form or on my Kindle, it doesn't matter. But it needs to be a book.
So far so good. Every night I've been heading to bed a little earlier than usual and I crack open a book. Right now I'm alternating between a travel memoir, Two Wheels Through Terror by Glen Heggstad, and a business book, Free Prize Inside by Seth Godin.
In terms of travel books? Here's what's on my bookshelf for the year and what I consider to be some good travel book recommendations:
Two Wheels Through Terror by Glen Heggstad – This book is the true story of a motorcycle rider who travels from Palm Springs, California down through South America to Tierra del Fuego (and back). Along the way he gets captured in Colombia by rebels and is held captive for five weeks. Undeterred, he continues onward to complete his goal.
Committed: A Love Story by Elizabeth Gilbert – OK, not necessarily a travel story
but you know the author from the travel book Eat, Pray, Love. I will go on record to say that while I did read the entirety of EPL, it was not my favorite book – but I won't go into that here. I'll just say that Gilbert IS a talented writer and this topic is of interest to me because, from what I understand, she explores her relationship with Felipe (from EPL) and their transition from promising to never marry to… marrying. In case you don't know it, Jon and I are (gasp) not married, even though we refer to each other as husband and wife. So I'm curious about their transition from dating to wedded.
Hell or High Water by Peter Heller – This book chronicles the author's trip down the Tsangpo River in Tibet with an elite group of kayakers. I've seen the short documentary made about this trip (a bit of a disappointment from Outside Television) but I've read another book by Helller (Kook, about him learning to surf at 45) and have high hopes for this one.
The Sex Lives of Cannibals by Maarten Troost – This one has been on my list for a long time and I happened to find a copy of it in a used bookstore so I grabbed it. It's the story of the author picking up and moving to the remote South Pacific Island of Kiribati where he spends two years with his wife. From the reviews this book is supposed to be hilarious. Looking forward to it.
Rascal Rain by Inez Baranay – The author spent a year in Papua New Guinea and from her experiences came this book. Honestly? I know little about this one but there are so few books about travel to PNG that all books about the country capture my attention. Rascal Rain is out of print but used copies are available for under a buck (plus shipping) on Amazon. What a deal!
Islands in the Clouds: Travels in the Highlands of New Guinea by Isabella Tree – Another book about Papua New Guinea (and Irian Jaya to the west) that I know little about but have been wanting to read. I picked up this copy on Amazon for a penny plus shipping.
Yanomami: Masters of the Spirit World by Paul Henley – Another used bookstore find, this is a small book that includes photos and stories about the Yanomami tribe in the Amazon rain forests. This is a region that I fantasize about visiting and I just love learning about the indigenous tribes that live there.
*****
So, that's it. My books for the year. Truth be told, I hope I can get through half of these! But I'm really excited about all of them.
What's on your reading list this year?
Travel Well,
Beth