I admit it. The first time someone mentioned Bhutan to me, I had to Google it. I had no idea where it was located. Shortly thereafter, I was leading a tour to the Kingdom.
Most people to whom I mention Bhutan, have the same puzzled look that I once had. But with visits from Oprah, John McCain and Michael J. Fox, it HAS become a tad more mainstream.
(Pssst, we want you to be like Oprah and go to Bhutan. See below on how you can save 5% on our 2014 Bhutan tours by booking on or before February 15!)
I have now been to Bhutan eight times and am getting ready for my ninth trip in just a few short months (can't WAIT!). So what makes it so special?
Bhutan is a country where magical things appear from around corners, monasteries and markets. It's where the King shows up at festivals. Where the royal family dines in local restaurants and mingles with our tour groups. Where monks will spend time to show you how to meditate. Where the snow-capped Himalayas suddenly appear in the distance when your vehicle turns a bend along the country's one main road. And it's where the King and Queen stop in small villages to meet the locals (one of our groups met them both the day after their wedding!).
Bhutan is a place where preserving an ancient culture, religion and pristine landscape are more important than being overrun with tourism. Yup, you heard that right. While the number of tourists is NOT limited, a high daily rate set by the government and a lack of flights and hotels do a fine job of prohibiting people from visiting.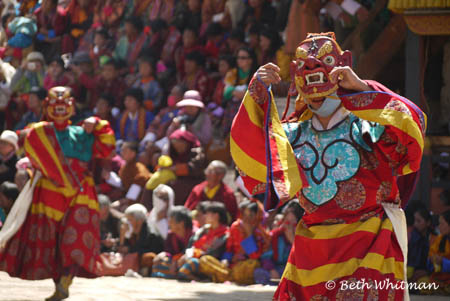 Is it your dream to go to Bhutan, the land of Gross National Happiness?
Here's what to expect:
A pristine landscape. Think: the Pacific Northwest on steroids. Everywhere you turn, you'll see alpine-laden mountains and giant magnolia trees. Yak roam freely alongside the road. Monkeys play in the trees. And the snow-capped Himalayas are your backdrop.
Fresh air. From the moment you step off the plane in Paro, you can breath in the fresh mountain air. Your lungs will never feel better.
Gentle people. About 95% of the population is Buddhist. Therefore, you've got a country of people who are practicing peacefulness, mindfulness and are likely walking with mala (prayer) beads as they recite mantras.
Chili and cheese. Ema datse is the national dish and served during every meal. A milder version is usually given to tourists but if you want the real deal, just ask for what the guides are eating :-).
Festivals! Every district in Bhutan celebrates by holding a tsechu (festival) at some point during the year.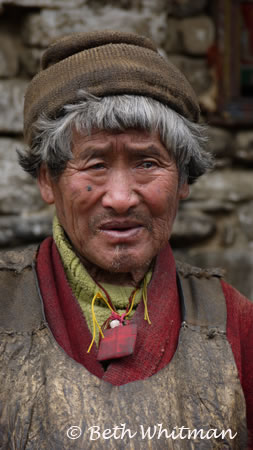 This year we're offering three tours to Bhutan! And if you book any of them prior to February 15, you'll save 5% on the land portion of your trip (this applies to new bookings only).
April 5 – 16, 2014
Paro Festival Tour (women-only)
Highlights:
Hike to Tiger's Nest, the country's most photographed monastery
Attend the Paro Festival — the country's most popular event featuring the unfurling of the country's largest thongdrel (banner)
Drive over Himalayan mountain passes (11,000+ feet)
Visit Punakha Dzong — considered the most beautiful monastery in Bhutan
By the way, I'll be leading this tour!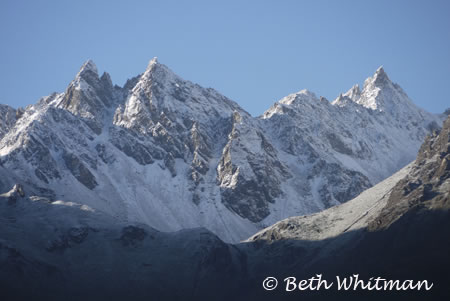 September 15 – October 16, 2014
Snowman Trek (co-ed)
Highlights:
The challenge of a lifetime on this 25-day trek through the Himalayas
Views of picturesque snow-topped mountains and glacier lakes
Porters carry your gear (other than a daybag)
More people climb Everest than do the Snowman Trek – make this YOUR epic adventure!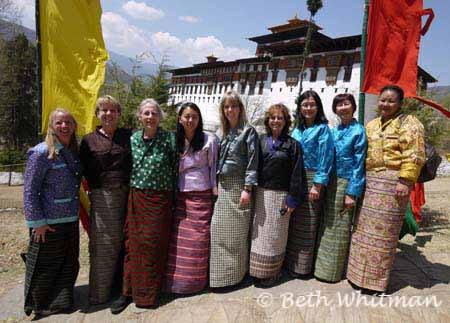 October 3 – 14, 2014
Two Festival Tour (women-only)
Highlights:
Hike to Tiger's Nest, the country's most photographed monastery
Attend fantastic festivals in both Thimphu and Bumthang
Take light hikes in the peaceful beauty of the Himalayan foothills
Visit stunning Punakha Dzong — considered the most beautiful monastery in Bhutan
Walk through the Gangtey Valley, where black-necked cranes migrate from the Tibetan plateau
*Â  Also – every participant on a tour with a departure date in 2014 will receive a free Donner Bag ($65 value!) from Overland Equipment in her choice of color.
Your tour deposit must be received on or before February 15, 2014 in order to qualify for the 5% discount. Does not apply for tours booked through a travel agent.
Are you convinced yet that you need to visit? If not, give me a call (888-818-9918) and I'll share my enthusiasm with you until you simply can't wait to get there yourself :-).
Travel Well,
Beth
Related links:
Women-only Tours