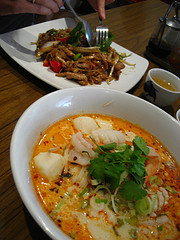 One of our favorite types of cuisine is Thai.  In fact, it's one of the few types of food that routinely tempted us to eat out more than we would have otherwise budgeted for. While we're committed to financial discipline as we rebuild savings after the flood losses, we really wanted to find a way to enjoy Thai food at home.
While the more complicated recipes take a little more time than I'm willing to spend, I have found a few dishes that don't require too much effort. They are all tasty enough to give us our Thai food fix, and affordable enough to work into the budget on a regular basis.
Pork with extra thin green beans.
I think this recipe tastes more like the restaurant version I remember without the oyster sauce, sugar and salt. Of course it also has way less sodium that way, which makes it healthier as well. It works great with ground beef, shrimp or bay scallops as well. Pop a side of jasmine rice in the rice cooker, and you've got a tasty entree in less than thirty minutes.
Spicy ground beef with raw cabbage and vegetables
This dish is definitely full on flavor and light on calories, particularly if you use the extra lean ground beef in your recipe. Since the vegetables are raw, you can serve this dish chilled or warm which makes it perfect for year round entertaining.
Thai coconut chicken with snow peas
This recipe is fairly simple with a reasonable number of ingredients. It tastes amazing over jasmine rice and uses one of my favorite convenience vegetables, snow peas. The inclusion of coconut milk really rounds out the flavor.
Green curry with snow peas and shrimp
No shortage of flavor with this dish, and you can use store bought green curry paste to speed things up. Serve over jasmine rice with ice cold Singha. Swap out shrimp for bay scallops as a variation.
Tom Kha Gai soup
This is one of my all time favorite soups. I frequently order at least a cup of it as an appetizer when we go out for Thai food while on the road. Rather than being seafood based, chicken breast and mushrooms take the lead as ingredients in this soothing dish.
Pad Thai
Available inexpensively on every street corner in-country, my husband and I can both eat this dish for long stretches of time without getting bored. Just get yourself some dried rice noodles to cold soak for two hours, use some precooked chopped chicken or shrimp, precooked scrambled eggs (broken up), pad Thai sauce, water and sides of chopped scallions, raw sugar, ground peanuts and red pepper powder. Stir fry non-side ingredients (only about a third of a large jar of sauce) to heat and mix through. Serve using chopsticks and top with desired amounts of side items. Use sprouts as well and possibly full plain peanuts in the heated mixture, if desired. One of these days, I'll be trying to make my own sauce. Here's the simplest looking recipe I've found for it so far.
For other affordable Thai recipes, try coconut lime soup with scallops, lemongrass soup with shrimp or three ingredient curry. I've also recently written an article on low fat Thai shrimp toast you can make in your toaster oven. That's nine different recipes to enjoy the flavor of Thailand at home affordably.
Photo Credit: Adactio