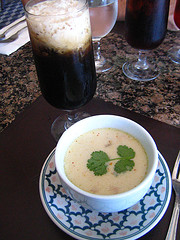 This recipe from Betty Rosbottom's Sunday Soup cookbook is a simple affordable way to get the flavors of Thailand on your table.
What you need: 3 lemongrass stalks, 2 limes, 4 cups low-sodium chicken broth, 8 ounces thinly sliced mushrooms, 1 large red bell pepper (seeds and membranes removed, cut into ½ inch thick pieces), ½ tsp red pepper flakes, 1 pound large uncooked shrimp (shelled and deveined), 1 cup snow peas (ends trimmed, cut on diagonal into ½ inch thick slices, 2 green onions (thinly sliced), 1tsp kosher or sea salt, 3 tbsp chopped fresh cilantro.
What you do: Remove tough outer layers from the lemongrass stalks, along with an inch or so of the woody base. Thinly slice stalks crosswise to yield 1/3 cup. Cut 6 thin slices from one of the limes and juice remaining limes to yield 2 tbsp. In large saucepan, combine chicken broth, lemongrass and lime slices. Bring to a simmer for 10 minutes to flavor the stock. Strain the stock and return the liquid to the pan, discarding the solid bits. Reheat again, adding bell pepper, mushrooms, and red pepper flakes. Add shrimp, snow peas and green onions. Cook until shrimp are curled and pink (about 2-3 minutes). Do not overcook or shrimp will be tough. Remove from heat and stir in lime juice and salt. Ladle into bowls and garnish with chopped cilantro.
For a more thorough look at this cookbook, check out this detailed review.
Related Recipe: Easy Low Fat Thai Shrimp Toast.
Photo Credit: Rick