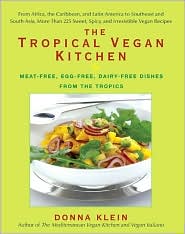 Donna Klein's cookbook The Tropical Vegan Kitchen covers healthy and tasty plant-based meals inspired by tropical locations in the Caribbean, Latin America, Africa and Southeast Asia. For those looking to try new international foods minus the meat, or just wanting know what to cook in the hostel kitchen while on the road, this book offers a variety of suggestions and unique recipe ideas.
I think what impressed me the most about The Tropical Vegan Kitchen was the diversity of flavor pairings the author presented within the standard categories of appetizers, main dishes, desserts, etc. Island bean burgers with Caribbean style creole sauce, black bean and avocado enchiladas with chipotle, pineapple vinaigrette and Thai corn chowder with lime and basil are just a few of the recipe ideas of note in this treasure trove of healthy food fare. A few others of note?
Baked sweet potatoes topped with a spicy black bean chili.

Papaya ketchup

Cambodian tomato soup

Baked wonton crisps

Caribbean eggplant spread

Warm new potatoes with Indonesian peanut sauce
Featured Recipe:
One simple recipe that caught my eye as exotic yet simple was this easy black bean and tropical fruit salsa. As for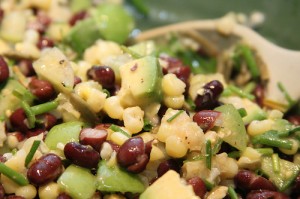 affordability, I can find all of these ingredients at my local Save-A-Lot.
Here's what you need:
¾ cup chopped fresh papaya
¾ cup chopped fresh mango
¾ cup chopped fresh pineapple
1 fifteen-ounce can of rinsed and drained black beans (or the equivalent amount of prepared dry beans)
1-2 jalapeño chilies (seeded and finely chopped)
½ cup finely chopped red onion
¼ cup finely chopped fresh cilantro
2 tbsp canola oil
1 tbsp fresh lime juice
1 tbsp red wine vinegar
1 tsp sugar
½ tsp salt
freshly ground black pepper to taste
Toss all ingredients until thoroughly combined and let sit for ten minutes for flavors to combine. Serve with tortilla chips as a snack.
Personal Verdict:
The Tropical Vegan Kitchen is definitely a worthy purchase for those exploring veganism, or just trying to reduce meat and dairy intake for planetary reasons. It's also an excellent resource in its own right for exploring flavor pairings from the various tropical regions of the world. Available on Amazon.Com.
For more tropical mealtime flair, check out this pineapple recipes article over on Wise Bread.
Book Photo Credit: The Penguin Group
Black Bean Salad Photo Credit: Gydluf