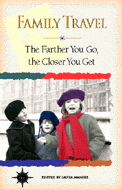 This collection of family travel essays gives you a broad perspective of the reality of life on the road with the little ones. Edited by Laura Manske, the work includes various highlights:
Blessed, by Mary Morris. Details a wonderfully creative trip to China which ultimately resulted in the birth of her daughter.
Road Scholars, by James O'Reilly. A family of five tackles an eight thousand mile road trip throughout France with three young children, a VW van and absolutely no hotel reservations. Includes some hilarious anecdotes of bilingual development.
Through the Eyes of a Little Girl, by Frank Lidz. A pair of incredibly secure parents sets their travel agenda according to the educational whims of their two daughters.
Those interested in having a peek at family travel from parents of all types should find this title reasonably interesting.
Photo Credit: Travelers' Tales