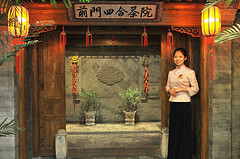 This is similar to a Thai dish we enjoy quite often. Its seasonings are slightly different of course, giving it the Chinese flavor required. Because the protein in this dish is used so sparingly, it definitely saves you some meat money on your grocery bill. The recipe as a whole is low on ingredients, making it a great full-flavored dish to help you save bucks and stay psyched for your next trip abroad.
What you need: 2 cups long grain white rice, 1 pound fresh thin green beans, ½ cup low sodium soy sauce, 2 tbsp sugar, 1 ½ tbsp corn starch, 2 tbsp plain rice vinegar, ½ cup water, 2 tbsp high quality vegetable oil, eight ounces finely ground or minced  lean pork, ¼ cup chopped garlic, 2 tsp crushed dried chile peppers, ½ cup sliced green onions (including green tops).
What to do: Cook rice and set aside. ( A rice cooker is an excellent way to keep it hot for serving.) In a small bowl combine, soy sauce, sugar, vinegar, corn starch and water. Set aside. Pre-cook the pork in a tiny bit of the oil until opaque and set aside in a separate bowl. In the same pain, heat remaining oil and add beans, garlic, chile powder and a tablespoon or two of water. Stir until beans are tender-crisp, then add pork, whisked sauce and green onion. Cook until sauce starts to thicken and serve over the rice.
This is a very simple way to feed several people with only a small amount of meat. It also uses only one main vegetable, keeping the produce budget in control. Purchase the rice in bulk and you are really saving some cash. This helps divert otherwise used funds to the travel budget. For even more cool info on traveling in China, check out Wanderlust and Lipstick's own Dim Sum Diary blog. Start packing!
Photo Credit:   Luo Shaoyang