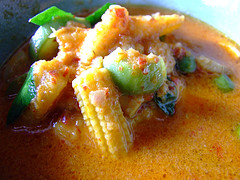 Jonesing for Thai food? Curtailing your restaurant budget so you can actually take a trip the country? Here's a simple, three ingredient recipe you can use to enjoy the flavor of Thailand over a humble bowl of rice. Read on.
Making Thai food from scratch for the first time can be intimidating. Longer lists of ingredients, not knowing which spices you can go heavier or lighter on and finding a well-stocked Asian market are on the list of challenges. This recipe will help you bust out of the culinary starting gate with success.
What you need: 2-5 cans of coconut milk from the grocery store, 1-2 boneless chicken breasts (diced), 1-3 tablespoons of your favorite Mae Ploy curry paste.
What to do: Put all three ingredients in a slow cooker while you are at work, and put some rice in the rice cooker when you get home. Serve the slow-cooked mixture over the rice.
Variations: 1. Add chopped carrots and onions, broccoli, or other vegetables to the slow cooker mixture.  2. Add cubed potatoes and skip the rice. (This makes for faster eating time when you arrive home, and also for easier cleanup.) 3. Make it vegan by going with vegetables only in the curry. Decide for yourself if you want to include potatoes as the starch and skip the rice for a vegan, easily cleaned up meal.
Related Recipe: Easy, low fat Thai shrimp toast.
Don't forget the ice cold Singha!
Photo Credit: Gaetan Lee