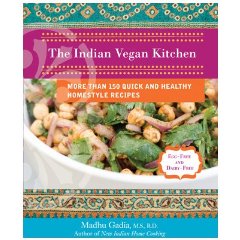 Written by Madhu Gadia, The Indian Vegan Kitchen has numerous recipe suggestions for creating healthy, flavorful international food for the meatless crowd.
Those who already love Indian food will enjoy this book, and those looking to enjoy international cooking while remaining on a budget will appreciate savings that can come from the fact that meat and dairy are not included in these particular recipes. While not a vegan personally, we are exploring foods and menu pairings that use less of these items, so it's been a particular treat to review The Indian Vegan Kitchen. A few recipes of note?
Mung bean crepes

Buckwheat potato fritters

Buckwheat – zucchini pancakes
Featured Recipe:
I always like to feature one recipe when I review cookbooks, to give a sense of the types of ideas a potential reader can expect to find between the cover pages. Usually, the choice is a bit tougher. This time however, the featured recipe jumped right out at me. Why? Well, it isn't because the other recipes weren't worthy of their own solo performance, I can assure you. The reason I picked this particular recipe ( Bean and rice pancakes ) to feature is because it is literally the only recipe I've ever seen that combines the commonly suggested complete protein food pairing into one actual food. This adds another whole level of flexibility and creativity with meal planning that traditional bean and rice dishes don't bring to the table.
Here's what you need: 1 cup of uncooked long-grain rice, ½ cup of split and hulled chana dal, ¼ cup of split and hulled urad dal, ¼ cup split and hulled mung dal, 1 tbsp peeled and chopped ginger, 1 tbsp finely chopped green chile, 1 cup water, 1 tsp salt, 2 tbsp finely chopped cilantro, 2/3 tbsp canola or vegetable oil, ½ onion that has also been finely chopped.
Here's what you do: Combine the rice and dals in a bowl and wash in 3-4 changes of water, then leave to soak 4 hours or overnight. Rinse and drain. In a food processor or blender, mix all ingredients except the cilantro and salt. Pulse or blend until coarse and grainy. Transfer back to bowl and mix in salt and cilantro. Then lightly coat a hot fry pan with the canola oil and pour about a ¼ cup of batter in the center, using a spoon to spread out the dough into a six-inch wide circle. Cook for 3-4 minutes until the edges start to lift, then flip and cook for an additional one minute. Repeat with the remaining batter.
These are great served with various chutneys and dipping sauces, and provide an additional alternative to bean burgers and falafel for those who don't particularly care to eat meat. At our house, we actually do eat a variety of meat and fish, but make extra efforts to keep the intake low for planetary impact reasons.
Personal Verdict:
A nice addition to any personal library of international and / or vegan recipes, and a great source of affordable recipe ideas for those wanting to explore Indian cuisine.
Available from Amazon.Com in October of 2009.
Photo Credit: Amazon.Com