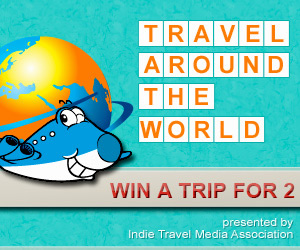 This is the 7th of 8 weeks where you can win a trip around the globe for 2. Grand prize includes airline tickets, travel gear, cash, tours, car rental, Eurail Passes and more!
Two runners up will win more great prizes!
Plus, each week we'll be giving away a prize to one random winner.
This week, one random winner will receive 5 RTW guidebooks from Rough Guides PLUS be entered in the final draw to win the round the world trip. The mystery city (country) for week 6 was Thailand!
So, what IS this contest all about? Read on if you've missed it…
Wanderlust and Lipstick has joined 9 other top independent travel sites to give away the ultimate traveler's dream – an around the world trip for 2 that includes a whole plane full of prizes!
The challenge? Guess the route of where the Round the World journey will take you.
The Grand Prize winner will receive the following:
* Round-the-world airfare for 2 from the BootsnAll Travel Network
* A Southeast Asia tour for 2 from All Points East
* One year of travel insurance from World Nomads
* One-week First Class Eurail passes
* Four hotel nights from Anantara
* Two BRX luggage sets from Briggs & Riley
* Head-to-toe travel clothing from ExOfficio
* One-week rental car in Europe from Auto Europe
* Shoes from Lowa Boots
* $500 in spending money from Transitions Abroad
* Two pairs of Serengeti Eyewear sunglasses with Polar PHD lenses
* A grab bag of useful apps and guidebooks
PLUS – we'll be giving away:
First Prize – $2000 in airfare to go anywhere in the world from 1800FlyEurope.
Second Prize – Roundtrip travel anywhere in the continental United States on Southwest Airlines.
Participants have 8 weeks and 8 chances to enter. Here's how it works:
Each week, participants guess the destination from the provided clues and then enter online. One winner will be randomly chosen from the correct answers each week and awarded a weekly prize. After 8 weeks–with 8 chances to win–everyone will know the route and there will be 8 finalists. One of those 8 finalists will win the Grand Prize package for 2 while 2 more winners will receive the First and Second Prize awards!
Here's where to find the Around the World Contest.
In addition to Wanderlust and Lipstick, here are the other sites hosting this contest…
BootsnAll Travel Network – The traveler's one-stop indie travel guide, which began publishing travel on the web in 1998.
ConsumerTraveler.com – The web home of the Consumer Travel Alliance, which fights in Washington for reform of air travel, rollback of fees and for airline passenger's rights.
GoNOMAD.com – Provides travelers with inspiration and links to plan their trips.
JohnnyJet.com – Home of intrepid traveler John DiScala, who flies more than 150,000 miles a year and provides comprehensive articles about everywhere he goes.
Perceptive Travel – Includes the best stories from authors on the move.
Practical Travel Gear – The top blog for daily reviews of travel gear and travel clothing.
TransitionsAbroad.com (founded in 1977 as the print magazine) – Provides articles, resources, and program listings for long-term travelers seeking to work, live, volunteer, or study abroad.
Travelfish.org – The go-to guide for Southeast Asia, with daily articles and iPhone apps you can download to give you details about any country in their region.
Good luck!
Beth