By Rachel Diebel
Gratitude is global. No matter how far you travel or where you go, showing gratitude will always score you good karma points. Whether you want to express your gratitude to a local for helping you or simply want to make sure that you show respect to your waiter, knowing how to say thank you in the local language can be useful. In fact, it may just be the most useful phrase you can learn as a traveler.
More Language Tips for Travelers: What People Are Called around the World | Tips for Learning a New Language
Although usually wonderful, traveling can also be tricky. Sometimes there are unexpected problems or hurdles to overcome, and most of the time the locals will give you the helping hand that you need. Being able to thank the locals in their language will show your gratitude as well as your willingness to learn.
Here is how to say thank you in languages from around the world (spelled phonetically when a different writing system is involved)!
Europe
Germany — Danke
France — Merci
Norway — Takk
Greece — Ef-hah-rees-TOH
Croatia — Hvala
Russia — Spuh-SEE-buh
Italy — Grazie
Welsh — DEE-ol'ch
North America
Mexico – Gracias
US (Hawaii) – Mahalo
South America
Brazil — Obrigado/a
Bolivia (Quechua) – Solpayki
Asia
China (Mandarin) – Xie xie ni
Japan — Arigato (ah-ree-GAH-toh)
Thailand – Kop khun
Indonesia – Tuh-REE-mah KAH-see
North and South Korea — Gamsahamnida
India (Hindi) – Shukriya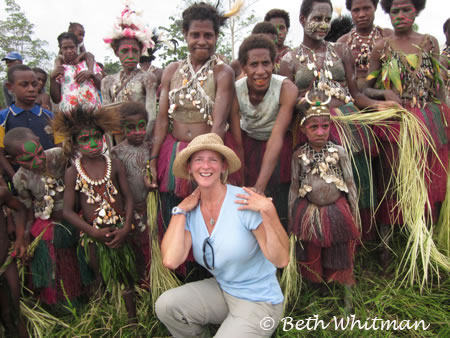 Africa
Kenya (Swahili) — Asante (a-san-tay)
Egypt – Shukran
Namibia (Afrikaans) – Dankie
South Africa (Zulu) – Ngiyabonga
Australia/New Zealand
New Zealand (Maori) – Whakawhetai ki a koutou or kia ora
*****
Photo credits:
Tourist with Local: Gareth Williams via Flickr
Beth in PNG: WanderTours
Tourist in India: WanderTours