By Rachel Diebel
The Japanese are known for their artistry and attention to detail, and their snacks are no exception. Japanese junk food is tiny, delicately crafted and almost always available in a mind-boggling array of colors and flavors. No visit to Japan is complete without a full taste test of popular snack foods such as Pocky and Hello Panda, but if you're not going to Japan anytime soon, never fear! Many markets around the world carry imported Japanese snacks for the world to enjoy. The selection can often be vast and sometimes wrappers are in Japanese. Which ones should you buy?
Also check out: Must-Try Japanese Foods | Cherry Blossoms in Japan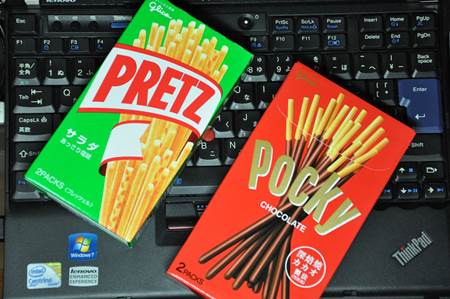 Pocky and Pretz
Probably the most famous Japanese junk food, the original version of Pocky consisted of cookie sticks dipped in chocolate. Pocky has since been expanded to include flavors like almond, honey, green tea, banana and even "decorer pocky" with ornamental stripes. The snack has received wide distribution all around the world and spawned many look-alikes, including Pretz, an unglazed version that comes in savory flavors such as pizza and French toast.
Collon
Despite the somewhat terrible name, Collon is a particularly delicious brand of cylindrical cookie, filled with sweet cream. Collon, like Pocky, comes in a wide array of flavors, ranging from orange to green tea. These sweet and flaky treats are the perfect addition for the lunchbox of any kid (or kid-at-heart), or great as a snack as you stroll the streets of Tokyo.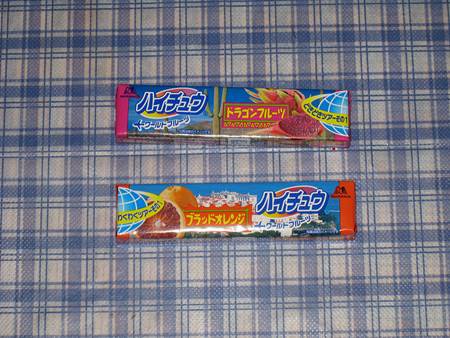 Hi Chews
Hi Chews were created by a Japanese entrepreneur named Taichiro Morinaga, who wanted to make a kind of gum that you could swallow instead of rudely spitting it out when you were done. The soft and chewy candy started out in only strawberry, but has now expanded to over 113 different varieties, only a few of which get imported to the US. Similar to Laffy Taffy or Starbursts, Hi Chew is a fruity, tasty treat.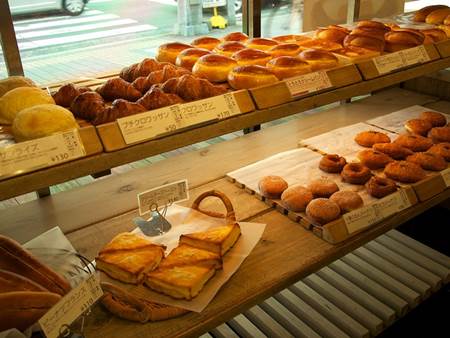 Japanese Sweet Breads
From melonpan (regular bread covered with a layer of sweet cookie dough) to anpan (a sweet roll filled with red bean paste), there is something for everyone at a Japanese bakery. Even Japanese convenience stores carry a wide variety of sweet breads, and they make a great mildly sweet dessert after a meal, or a snack in their own right.
Kit Kats
Most people seem to think that Kit Kats are only an American candy that only comes in one flavor: chocolate. However, in Japan, Kit Kats come in every flavor imaginable, and they really do taste like the shiny picture on the front, in a way that American candy often does not. Pear, edamame and brown sugar syrup are as fair game as strawberry or dark chocolate when it comes to Japanese Kit Kats.
Hello Panda
The charm of Hello Panda is just as much in the quirky cartoons of giant pandas playing soccer and doing archery and the snack's signature hexagonal box as in the food itself. Hello Panda is a brand of Japanese shortbread cookie filled with chocolate, vanilla or strawberry cream. Even the cookies themselves are adorable, shaped like panda heads.
Apollo
Made by Meiji, the same company that makes Hello Panda, Apollos are tiny, cone-shaped, chocolate and strawberry candies. Each adorable little cone has layers of milk chocolate and delicious strawberry cream. You can use these as decoration for fancy desserts, as ice cream toppings or just eat a handful straight out of the bright, strawberry-printed box. Though strawberry is the most common flavor, Apollo is also available in blueberry and white chocolate.
Onigiri
For those who prefer savory to sweet, onigiri are the perfect afternoon snack. Available in almost all convenience stores, onigiri are rice balls wrapped in seaweed and stuffed with salted salmon or something similar. These filling snacks can also be made into artistic masterpieces by shaping the rice into pandas or adding cute decorative bits of seaweed to the outside.
Senbei and Nori
The traditional tea-time snack in Japan, senbei are baked or grilled rice crackers brushed with a variety of flavoring sauces. Senbei can come in flavors like kimchi and curry, and are sometimes topped with another common Japanese food, nori. Nori is a type of seaweed that can be eaten fresh or used in recipes (think sushi). Smaller senbei also come as part of a snack mix, combined with peanuts and pine nuts.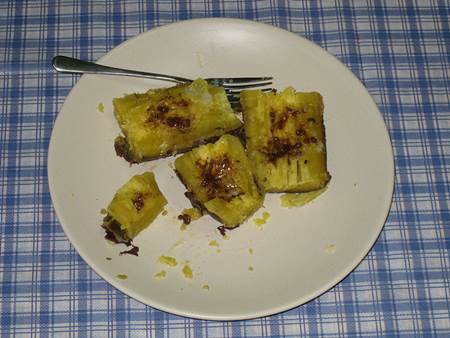 Yakimo
Japanese yakimo will be familiar to many Americans. Yakimo is simply a baked sweet potato covered in butter and often served with a tall glass of cold milk. More than a snack but less than a meal, yakimo is frequently eaten as a kind of late afternoon snack, and can be purchased from street vendors in cities all over Japan.
*****
Photo credits:
Pocky and Pretz: [email protected] via Flickr
Collon: Benoit Renaud via Flickr
Hi Chews: Jeremy Hall via Flickr
Japanese Bakery: mhiguera via Flickr
Kit Kats: Jordi Sanchez Teruel via Flickr
Hello Panda: Debbie Tingzon via Flickr
Apollo: Christian Kadluba via Flickr
Onigiri: Juliana Phang via Flickr
Senbei: Ghost of Kuji via Flickr
Yakimo: Jeremy Hall via Flickr