By Kumiko Matter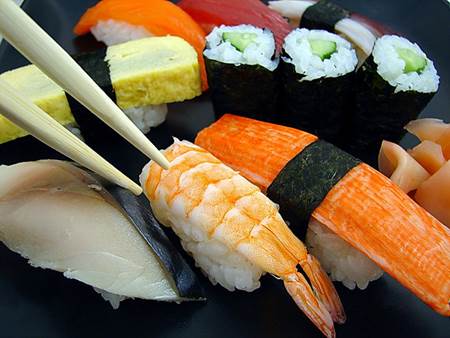 Japan is known for culinary masterminds — like Nobu Matsuhisa, Jiro Sukiyabashi, Tojo Hidekazu and Masaharu Morimoto — who have turned Japanese food into common household meals around the world. The dishes that inspired them are made from ingredients sourced from around Japan, like seafood, tofu, pork and Japanese vegetables. On your next trip to Japan, make sure to try these staple dishes to taste all that Japan has to offer.
Also check out: Japan's Best Snack Foods | How to Use a Japanese Toilet
Sushi
Whether you eat sushi at its freshest right outside of Tsukiji Market in Tokyo or at a kaiten sushi restaurant anywhere else, this is definitely one of the best ways to taste the fresh seafood so key in Japanese foods. The Japanese sure love to eat tuna but look for other delicacies, like eel (unagi), salmon roe (ikura) or sea urchin (uni). If you can, sit near the bar to watch the highly trained sushi chefs create the sushi you're about to devour!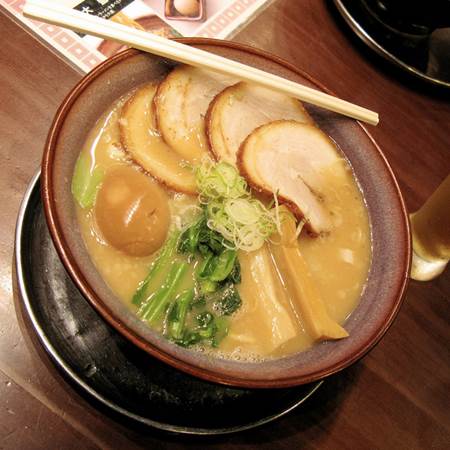 Ramen
Ramen is the ultimate comfort food dish in Japan. Businessmen crowd a small counter slurping up a bowl after work, and it's just as comforting for travelers to eat after a long day of sightseeing. The most common ramen has pork-based broth, but chicken is also another favorite broth style. Each area has their own style of ramen, of which you'll find shio (salt) flavor popular in southern Hokkaido, shoyu (soy sauce) outside of Tokyo, and miso flavor in northern Hokkaido.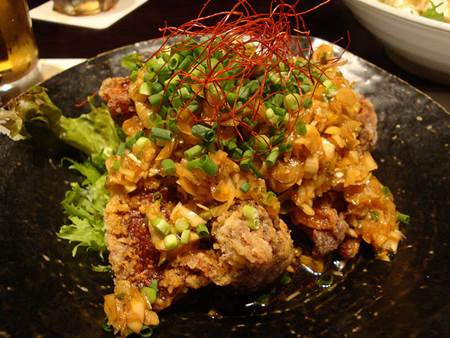 Kara-Age Chicken
Commonly served alongside ramen, and in almost every Japanese-style restaurant, is the best fried chicken you will find. Unlike American fried chicken, kara-age (pronounced kah-rah ah-gay) is seasoned with soy sauce and coated with cornstarch for the crispy coating. Kara-age is perfect served alongside a bowl of rice and some cabbage.
Yakitori
Yakitori is another simple chicken dish that consists of grilling chicken over a charcoal grill. The chefs will cook the entire chicken and the fresher the meat is (aka: killed outside in the backyard), the better it is. Show off how tough you are to your friends by ordering the heart!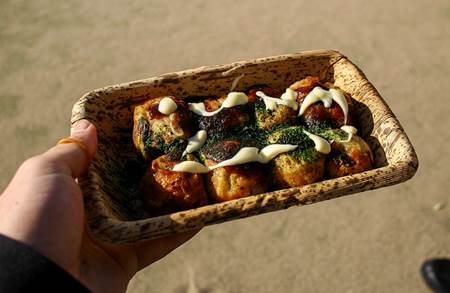 Takoyaki
A specialty to the Osaka region, takoyaki is a delicious ball-shaped snack of diced octopus and batter. It tastes delicious doused in tonkatsu sauce and Japanese mayo. Many street vendors sell it in the downtown area of Osaka and it is also popular to eat at festivals.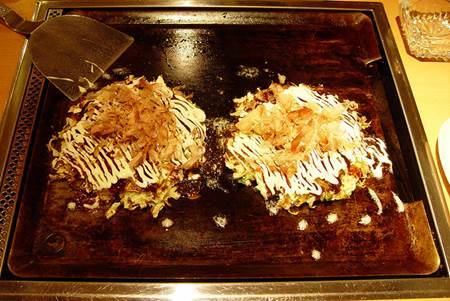 Okonomiyaki
Okonomiyaki also goes by the nicknames of "Japanese pizza" or "Japanese pancake" because of its difficult pronunciation. The base ingredients consist of lettuce and batter mixed with other choice ingredients like bacon, green onions, shrimp or ginger. At most Okonomiyaki restaurants, you can choose which main ingredients you want, from seafood to meat, and they will give you the okonomiyaki ingredients for you to stir and then cook on a personal frying griddle. This is a fun meal for the family to create and cook themselves.
*****
Photo credits:
Sushi: Tony Gladvin George via Flickr
Ramen: mapp::tokyo via Flickr
Kara-Age Chicken: David Pursehouse via Flickr
Yakitori: [email protected] via Flickr
Takoyaki: George Alexander Ishida Newman via Flickr
Okonomiyaki: Brandon Daniel via Flickr