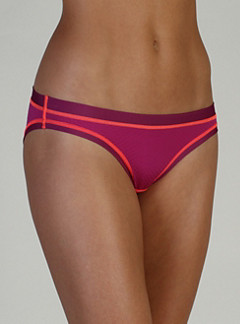 Congratulations to Kelly K. from Jasper, Alabama, a new subscriber to the Wanderlust and Lipstick Newsletter, for winning this month's prize!
*****
ExOfficio started in Seattle just before I moved here. I feel pretty fortunate about that fact because with them being in my backyard, I've been able to get to know them pretty well over the years.
There probably hasn't been a trip I've taken when I haven't packed an ExOfficio item. I can say that with some certainty because I've traveled with their underwear for as long as I can remember.
The truth is, underwear is one of their best sellers because it's so great for travel. I've tested other brands and I can unequivocally say that ExOfficio underwear dries out more quickly than any other. For a light packer like me, that is so key. I will literally travel with maybe three pairs and just regularly wash them out during a trip.
I was really thrilled to test out the ExOfficio Give-N-Go Sport Mesh Bikini Brief. This is the latest in their underwear line. Made of an ultralight mesh, this makes them verrrrrrry comfortable.
I've run in these and while the last thing I'm thinking of is how my underwear is feeling while I'm pounding the pavement, the point is, I don't have to think of my underwear when I'm pounding the pavement.
These are also great for warm weather travel as they feature an antimicrobial material that helps stave off odors. Also? They have moisture wicking properties so in that warm weather it'll wick the sweat away from your skin.
Personally I really like the Bikini fit (picture above) but these also come in a Hipkini version (more of a hip hugger).
About ExOfficio
Located in Seattle (yay!), ExOfficio specializes in comfortable, lightweight travel clothes that feature wrinkle-free fabrics with bug, sun and water protection.
Wanna win your own Give-N-Go Sport Mesh Underwear?
During the month of May, you can enter to win three (3) pairs of Give-N-Go Sport Mesh Underwear from Ex-Officio. One winner will be chosen on June 1, 2015.
You have THREE CHANCES TO WIN!
1) Sign up for the Wanderlust and Lipstick newsletter. This goes out just once a month and your information is never shared.
2) Sign up for the RSS email feed (see the "subscribe me" box in the upper right) to receive an email each time I post to this blog (usually no more than 3x per week).
3) NEW for 2015! If you're already a newsletter and RSS email feed subscriber, leave a comment below and let me know where you would wear your Give-N-Go Sport Mesh Underwear from ExOfficio. I'll then include you in the random drawing.
If you're new to the site or this blog, do all three and you'll have three chances to win!
Oh, and get some good karma by forwarding this to friends whom you think might like to enter to win their own Give-N-Go Sport Mesh Underwear from ExOfficio.
Value: $66
The Deets
This contest closes at 11:59 pm PST on May 31, 2015 and the lucky winner will be chosen on June 1, 2015. ExOfficio will ship to the U.S. only for this contest (sorry!).
The winner will have three days to respond before another winner is chosen.
Be Bold,
Beth
Want to stay up-to-date on all things Wanderlust? Follow me on Facebook, Twitter or RSS/email.
Disclosure: ExOfficio provided the Sport Mesh Underwear to me for review. Regardless, everything I have said in the post reflects my honest opinions.