How much does this dress say summer? A lot!
This is the new Mountain Khakis Cora Dress, part of their spring/summer line that's just come out.
While I was on Maui these past couple of weeks, I had a chance to test out this lovely dress.
I found the Cora to be quite versatile because I could wear it out to dinner with a light shawl, but it also worked great at the beach or pool worn over a bathing suit.
Although it comes with a waste tie, on me I think it looks better without it. In other words, the fit is such that it doesn't drape down, it hugs my body for a better fit. What's best is that the sizing seems to run true.
I can't help but think of Cape Cod when I look at this dress in blue. It just seems so east coast. But it did not look out of place on Maui!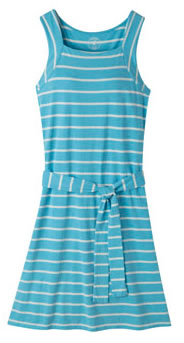 The Cora Dress is 100% cotton and feels nice and light for hot summer days. It also packs well. I never did need to iron it once I arrived at my hotel.
This comes in three colors: Linen, Blue Note (pictured) and Sangria.
Available on Amazon for about $65 or directly on the Mountain Khakis site.
Be Bold,
Beth
Want to stay up-to-date on all things Wanderlust? Follow me on Facebook, Twitter or RSS/email.
Disclosure: Mountain Khakis provided this dress to me for review. Regardless, everything I have said in the post reflects my honest opinions.