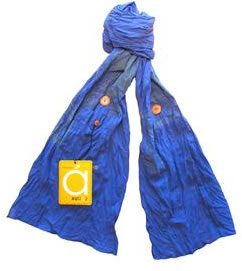 Normally, I wouldn't be writing about a scarf in August. But given that our Seattle summer has been less than stellar, I have found myself pulling out my jackets, warm socks and, yes, scarves, when I thought these had long been tucked away until October.
I was fortunate to have been sent a Xubaz Scarf late in the spring that I've been able to put to use. Actually, the Xubaz that I have, the Cotton Voile (pictured left), is meant for the spring/summer anyway so it's been a perfect addition to my wardrobe. It's made of soft lightweight cotton and not only has some interesting features, it spruces up even the simplest of t-shirts.
Looks aside, here's what makes Xubaz scarves different:
* Built into the scarf are 2 hidden pockets, one secured with a zipper, the other with a button. This allows you to have easy access to some money or ID for those times you don't want to carry around a purse.
* There are security straps on both the left and right sides. These can be easily snapped onto your pants (with suspender-like clips) or another piece of clothing so that the scarf can't be pulled off your neck (or so that you won't leave it behind on a flight!). These straps can easily be removed if they aren't your thing.
There are 6 styles available in a variety of colors (even ones appropriate for guys). Scarves are 70″ long and 10″ wide and they travel well because the cotton is wrinkled. They pack down small and wear well right out of your luggage.
Prices start at $27.
Travel Well,
Beth
Related links:
Win Tilley Clothes from Tilley!
CLEAN Anti-bacterial Hand Cream
Naturopathica for the Traveler
Join other Wanderlusters and stay updated on travel-related items by subscribing via email or RSS feed.