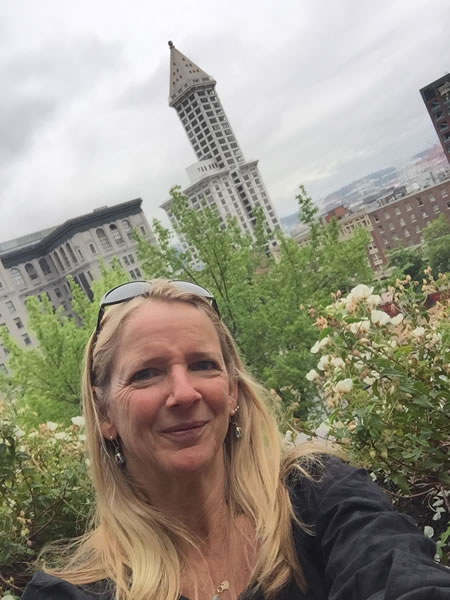 Are you a prAna fan? You can get 15% off your next online order by using promo code TRWLS18 at checkout!
______
I think most people associate prAna with yoga and active wear clothes. I know I always have. And with good reason! One look at their website and you'll see that they have a huge selection of items in their collection of yoga leggings, tops, bras, mats and accessories. They excel in this category like no other brand.
But they want you to know they aren't just about yoga and activewear. Did you know they've got an entire collection dedicated to travel? Uh huh. That's right, sister. Now you don't have to wait until you get the inspiration to join a yoga class to shop prAna. If you're reading this, you're a traveler already. So this is your excuse chance to add comfortable clothes to your collection for your next trip!
I was graciously gifted a few items from prAna for my upcoming travels. I plan to wear these in Santa Fe and New York City–two trips I have scheduled for June–and on Kauai when I get there soon (never soon enough!).
Here's what I'm packing…
Verrano Top
My favorite of the items I received is the Verrano Top (I'm wearing it in the photo above). It's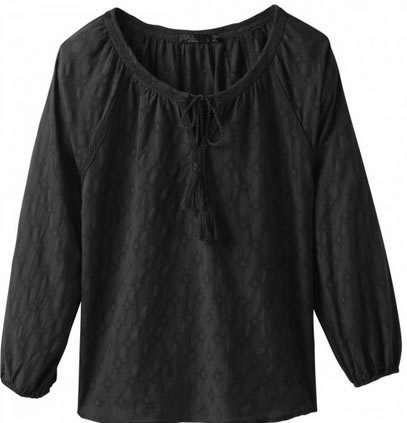 incredibly lightweight and can be worn on a warm day (here I come Kauai!) despite the longer "raglan" sleeves. These, by the way, have elastic at the wrists so they're easy to push up and stay in place at or above the elbow.
There's a drawcord at the neck that can be tied but I let mine hang down so there's a bit of neckline showing. The size small is true to fit and hangs nicely. In other words, it's not too billowy.
Mine is in Black but it comes in three other colors: Green Jasper, Volcanic Plum and Stone. Available from XS – XL and sells for $65 on the prAna website.
The Verano has been a favorite of mine these past few weeks as we head into spring and was also the perfect top to wear as I toured Seattle with a friend.
Yvonna Tee
The Yvonna Tee is really less of a t-shirt than a very pretty near-sleeveless top. I mean like really pretty and delicate-looking. You could call it the little sister to the Verrano because it's similar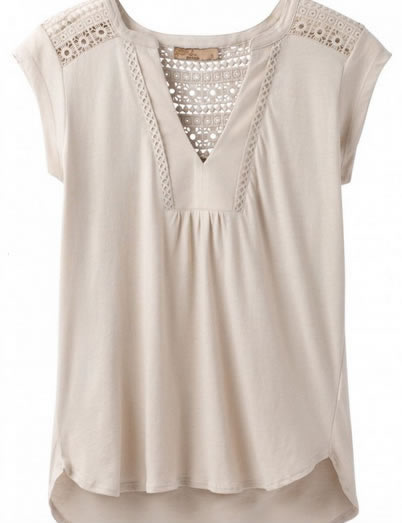 but different enough. It's what you'd wear on a warm day, oh, let's say on Kauai 🙂
The sleeves are short and it's without the drawstring (as is on the Verrano) at the neckline, giving it a much more summery feel. It also has beautiful lace insets in the back and front/shoulders giving it an extra feminine feel and also a bit more breathability for summer.
I will say that the size runs a bit larger than the Verrano so I'd recommend ordering a size down from what you normally would. Mine is Black but it also comes in Cobblestone, Crushed Cran, Starling Green and White. This is $69 on the prAna website.
Ostara Top
The Ostara top is another beautiful item from prAna. This top is a bit heavier than the other two,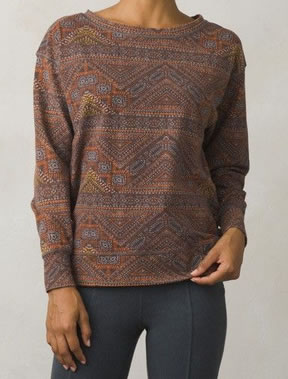 making it ideal for cool summer evenings in Seattle (when temps can dip 30+ degrees from daytime temps) or on camping trips when I'm sitting around a fire. I'll be traveling to Papua New Guinea this summer and, despite it's tropical local, the mountain region gets quite cool so this will come in handy.
This top has a few features that aren't really well represented in the website photo but which I was delighted to discover. First, it has a boatneck cut around the neck. This drops the neckline just a bit lower than most pullover tops. Second, the left and right sides have laceup at the waistline. You can't actually tighten them but they make for a nice touch. Third, the Ostara is made from a stretch jersey. It makes you kinda wanna tuck in and snuggle up with it on the couch.
Like the Yvonna, the size is just a tad larger than what I expected but it fits fine (in other words, I'm not sure you'd want to order a size down). My Ostara is in Volcanic Plum Aster (shown above) but this also comes in Coal and Forest Green. This is $79 on the prAna website.
I've been a secret admirer of prAna for a long time and delighted that they can be my go-to clothes for travel since I travel more than I do yoga – LOL!
prAna's backstory:
prAna is owned by Columbia Sportswear and is known for using 100% organic cotton and often producing fair trade items. Their clothes are great for yoga, for sure, but also climbing, other outdoor activities and, of course, travel!
They have a giving back program where they provide proceeds to international organizations, areas affected by natural disasters and programs that help young people get into the outdoors.
Don't forget that you can get 15% off your next online order by using promo code TRWLS18 at checkout!
Be Bold,
Beth
Want to stay up-to-date on all things Wanderlust? Follow me on Facebook and Instagram.