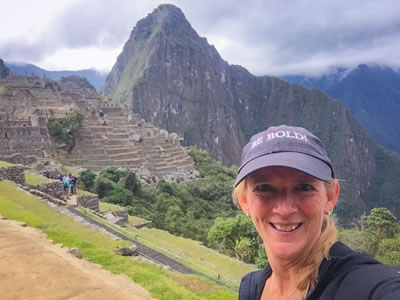 The Inca Trail and  trip to Machu Picchu ranks amongst the most popular hikes in the world.
Everyone has seen the iconic image of Huayna Picchu, the mountainous tower at the ruins of Machu Picchu. It's likely you know more than a handful of people who've had their photo taken in front of that imposing landscape (including yours truly!).
But the truth is that the photos do not do this region justice. It's nearly impossible to capture the magic of the landscape and the ruins(!) without visiting it yourself. I finally had that chance on a recent trip to Peru.
Here's what I learned…
Choose Your Route
There are several ways to get to the ruins of Machu Picchu: you can take a train to the town of Aguas Calientes and then ride the shuttle to the ruins; you can depart the train at kilometer 104 and take a one-day hike to the ruins; or you can take a vehicle to kilometer 82 and take the four-day Inca Trail.
For my most recent trip, I only had time for the one-day hike but I'll be returning soon to do the four-day trek when I lead our WanderTours trip to Peru.
Plan Ahead
While it might be a backpacker point of pride to pop into a new location without a plan and take on a new challenge, Machu Picchu is not the best place to do that. You'll need to plan for this one as it requires an Inca Trail permit issued by the Peruvian government. Visitors to this historic place are limited and trail permits are non-refundable, non-transferable and connected to a specific date.
Permits are issued to up to 500 people a day to the ruins and you must hike and visit the ruins with a guide.
Get Ready for the High Altitude in Advance
The Inca Trail tops out at more than 13,700 feet at its highest point, which means you'll need to think ahead about the elevation (unless you just happen to live at 13,000 feet!). You could prep by doing other high-altitude hikes if that's a possibility for you, but the easiest way to prep your body to handle the altitude is to stay in Cusco for a few days before your journey. Fortunately, Cusco is a pretty cool place to stay with plenty in the city to explore, including incredible ruins, markets, shops and cafes.
Exercise
You're not exactly choosing to go on a spa vacation if you take on a climb to Machu Picchu. You're choosing to do a fairly strenuous trek at high altitude. Yes, it's rewarding. Yes, it's amazing. Yes, those views of Machu Picchu will take your breath away…but so will this trek if you don't put in some work to get your body in shape before you go. I recommend you get at least some long hikes in during the months leading up to your trip. This will not only get your muscles in shape but it'll be a way to tell how your body will react on long hikes, how much you'll need to eat and drink to sustain your energy and, if you're able to take training hikes at altitude, how you'll do in those cases. In addition to being in overall good health, you should consider some sessions on a stair climbing machine or running up hill if you happen to be a runner.
It's All about the Shoes
Of course you can do all the training in the world but if you don't have the right (comfortable) gear, namely hiking boots, all that training may be for naught. While the terrain on the trail is not difficult, you definitely want to have good ankle support as well as a mid-sole that's not too stiff but still durable.
Make sure these boots are well-worn and broken in. My favorite hiking boots are my LOWA Renegades. I've now worn these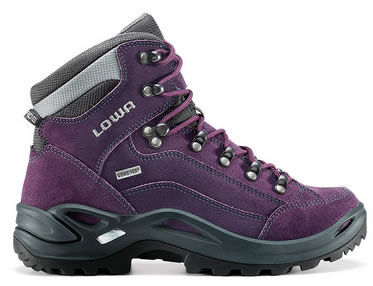 on two trekking trips to Bhutan (each trip was 220 miles!) and on Machu Picchu. These are super lightweight so they're easy to pack in my luggage and I can trust the support they provide to my ankles.
Pack Light and Pack Right
If you're doing the four-day trail, porters are only able to carry 7 kilos of gear for you (and that includes a sleeping bag). While you will be wearing or carrying much of your heavier gear (your boots, coat, water bottle(s), etc.), you must make sure everything else is lightweight and that you have only the essentials with you.
Consider appropriate layers based on the time of year you're going, and a day pack to carry your camera, snacks, water and anything else you might need at a moment's notice while you're hiking.
Bring Your Camera
This might go without saying, but don't leave your camera at home for this one. If you don't have a decent camera, it's worth purchasing one before you go as you'll come home with some pretty stunning photos. You might also want to invest in an extra battery or make sure you have an external power source as some of the best shots will be right at the end of your journey as you enter the Sun Gate and see the ruins of Machu Picchu.
Don't Forget the Little Things
If you have any prescriptions or medications you might need, bring them along. Once you're on the trail, there's no easy way back to emergency services nor is there a drug store along the way. You might want to bring along an anti-diarrheal just in case. Bring some sunscreen and apply often. Bring a hat to keep the sun out of your eyes and off your face. And possibly bring some toilet paper as you won't exactly have access to fancy bathrooms. Oh, and there ARE mosquitoes at this altitude. Bring mossie repellent!
Carry Some Cash and Snacks
You'll have food on the trail provided by your guide or group, but if you want any extra snacks, carry them along. Sometimes you just need an extra boost here and there on your own terms. Likewise, some cash on hand will allow you to buy extra drinks and food when you arrive at Machu Picchu. And you'll have some currency to tip the porters.
_____
Our 2018 Machu Picchu trip is sold out but you can join the waiting list or let us know if you'd like to be informed of future trips to Peru and beyond! Just contact us via the WanderTours website.