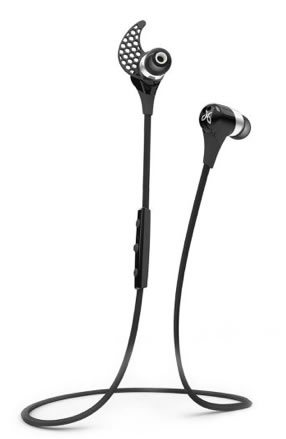 Headphones come with me on most of my trips. For long-haul flights, I always have my Bose noise cancelling headphones. But in addition, I always carry a pair of earbuds that I can use with my iPhone or iPod.
Wearing these with one of my favorite podcasts playing (This American Life, Studio 360 or On the Media) helps to lull me back to sleep when I'm jetlagged and it's the middle of the night.
I also like to wear them when I work out. And no matter where I am, I've discovered that wireless is the way to go.
With the JayBird BlueBuds Wireless Headphones, I'm no longer tethered to my device. I can move around freely, whether lying in bed, moving around the gym or even gardening.
The wire sits around the back of your neck making it easy to forget (in a good way) that you're even wearing earbuds.
While they were a bit awkward at first assembling the little wings that sit inside your ear to keep the earbuds in place, once I wore them a couple of times, I got the hang of it and I could easily place them in my ear and found that they stay in no matter how much moving around I do.
In addition to these being a Bluetooth headset for listening, there's also a built-in microphone so that they can be used with your phone. No one I spoke with while wearing these could tell the difference between me speaking directly into the phone or wearing the headset.
One bit of caution – don't forget to power down the earbuds once you've finished with them. The first couple of times I used them, I thought there was something wrong with the battery because the it had been drained by the time I wanted to use them again. Turns out I had just forgotten to power them off.
What I Love
I'm no longer tethered to my iPhone, giving me plenty of freedom to move around while listening or talking
Earbuds sit securely in my ear so they are barely noticeable
Quality of sound is equivalent to any other earbuds I have
The only word of caution I would offer is that it's very easy to forget you have these on and they are connected to a device. Several times I walked into a different room of the hotel gym, leaving my iPhone on a piece of a equipment!
Available on Amazon for less than $130.
Travel Well!
Beth