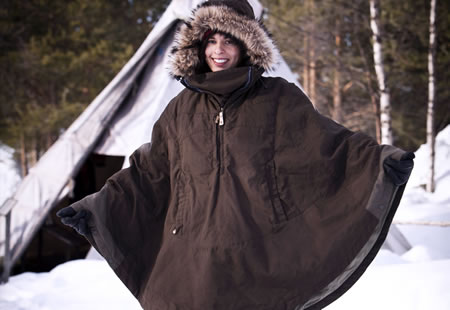 A friend gave me my first cape a couple of years (well, my first since the poncho I wore 100 years ago). It's a heavy wool cape from Spain. I love it and it introduced me to just how beautiful a cape/poncho can be. Despite the drape factor, it's kinda sexy, in a European way.
Then I saw the Fjallraven Luhkka Jacket, a cape of another ilk. I immediately zeroed in on it because I had already become enamored with this style.
The luhkka, by the way, is a traditional garment worn by the Sami people in the Artic. It's usually short to allow movement and flexibility and comes down to a person's elbow and cut longer in the front and back to hang to the waist. The Fjallraven Luhkka is much longer than this traditional version but with the extra length comes additional warmth. You might be surprised at how having your body heat trapped underneath the cape keeps you extra warm.
How to Wear Your Luhkka
While some capes are open in the front so that they can wrap around your torso, the Luhkka has to be slipped on over your head. There's a partial zipper at the top that zips down just less than half way. And underneath that zipper is a material that will shield you from the wind. Zip it all the way up and you've got added protection.
While the hood can't be zipped off, the fur is detachable. Pull strings allow you to tighten the hood around your head for added warmth.
While I don't know if they were meant for this, there are two snaps on each side of the bottom hem that bring the front and the back of the cape together forming faux sleeves that you can put your hands through. You can then easily slip your hands into the big front lined pocket.
The fill is 95% goose down.
What I Love
How deceptively warm it is. As jackets go, it seems rather thin. But it must be due to the fact that it's like wearing a blanket, it is very warm.
Other than my Spanish wool cape, it's like nothing I own so it's a definite head turner.
Not So Much
It can be a bit awkward to take off and put on, especially at a restaurant or friend's house. The only way around this would be to have a full zipper in the front and I think that would take away from this jacket's unique beauty.
I might prefer to have two separate zippered pockets in the front rather than one large one where my hands meet in the middle. But perhaps that's just me because I often fill my pockets with my wallet, cell phone and keys rather than carrying a purse.
At $500, I have to admit it's a bit pricey. But, again, it's beautiful and unique.
While perhaps a bit bulky to pack away, I could imagine this would be a great jacket to bring to Europe, particularly Scandinavia.
Available on Amazon for under $500.
Travel Well,
Beth
Disclosure: Fjallraven sent this jacket to me for review. Regardless, everything I have said in the post reflects my honest opinions.