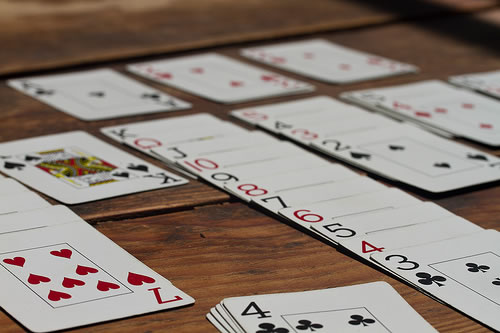 I can remember a time, not quite 20 years ago, when I had just returned from a trip and was looking for work in Seattle. I had registered with a bunch of temp agencies while I waited for something more concrete to show up.
I sat on my living room floor, playing solitaire and waited for the phone to ring.
I was SO bored. In that, "Mom, there's nothing to do kind of way."
Something or other popped up in terms of work but I promised I'd never let myself get that bored again.
*****
I think most people believe I'm on a perpetual vacation what with all the time I'm out of town. But the truth is that most of my travel is work-related. Even as much fun as I have on our tours, I'm too preoccupied about logistics, plans and whether everyone is having a fantastic time to ever feel like I'm the one on vacation.
There's been a lot of growth this year, with both our tours and website. As a result, I've needed downtime more than ever. Despite my feelings 20 years ago, my mantra has now become, "I just want to feel bored."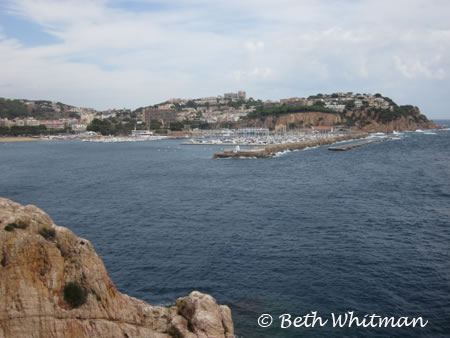 In September, I got my first taste of this in a long time. Jon and I spent four nights on the coast of Spain (Saint Feliu de Guixols, to be exact). It was likely one night too many in this sleepy little town. But I didn't mind because I was a bit bored. With cool and rainy weather, it wasn't optimal to go to the beach or the pool. But I liked that!
I also spent a couple of days in Bangkok after my Burma trip in November. Initially I regretted not having booked the next flight home after the tour. But I ended up spending 2 days enjoying the view from my upper floor room, wandering the streets for the best Pad Thai I could find (turns out it was 30 feet from my hotel), getting 2-hour foot massages and drinking enough watermelon juice to make my stomach bloat.
Meanwhile, closer to home… I am still working on finding work/life balance. With an inbox that somehow seems to be on perpetual overload, a website that keeps crashing (bringing my email down with it), an increasing number of phone calls and a to-do list that rarely has less than 100 things on it, I'm trying to figure out how to manage it all while still finding peace of mind and responding to emergencies and non-emergencies with grace (still workin' on that).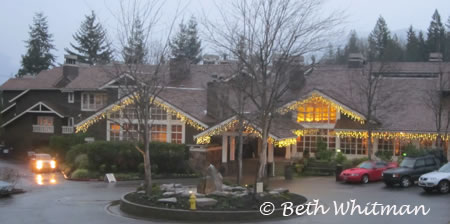 Jon and I used to make it a habit of getting away one weekend a month. Now, with both of us traveling so much, we haven't made this a priority. But we did make space for an overnight getaway to Salish Lodge and Spa just a few weeks ago.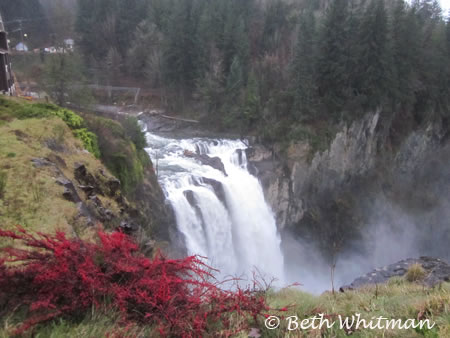 It had been ages (probably 10 years) since I had visited Salish Lodge and this was the first time I had ever stayed there. So it was a treat.
The lodge, located about 40 minutes from Seattle, was an easy drive for us on a Friday afternoon. We were welcomed with peppermint hot chocolate at check-in and took a little tour of the hotel (2 restaurants, a spa, views of Snoqualmie Falls and their on-site beehives).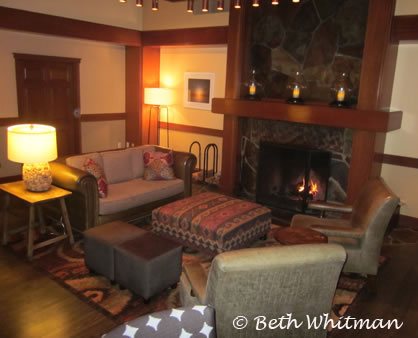 With less than 24 hours there, the irony is not lost on me that I had this feeling of wanting to do everything I could possibly do to relax within that short amount of time. I immediately lit a fire in our fireplace (every room has one as well as a Jacuzzi tub for two) and started leafing through the Seattle magazines left there. I hadn't read through Seattle Metropolitan or Seattle Magazine in years so I enjoyed reading up on the new restaurants and shops I hadn't heard of.
We then spent the afternoon in the "library" (photo above) enjoying the roaring fire and afternoon cookies, tea and coffee. We read and I napped before heading off to dinner at The Attic, their on-site restaurant with a view of Snoqualmie Falls below.
Breakfast was delicious (those are my waffles with a side of fruit) but even better than the food was being able to evesdrop on the group of delighted women at a nearby table who were exchanging Christmas gifts. It seemed like this was something they did every year. I'd love a tradition like that. Next time…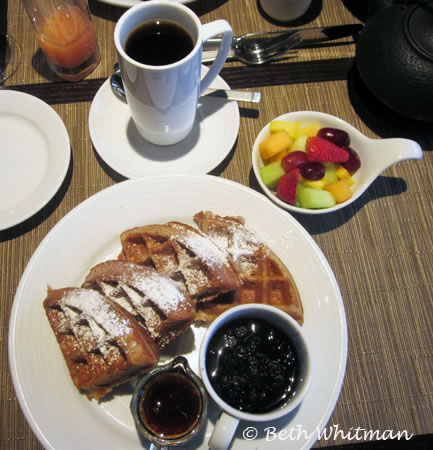 Before we left on Saturday, both Jon and I got massages at the Spa. (Note to self: a 50 minute massage is WAY too short. Remember, this gal likes 2-hour foot massages in Bangkok!) If I had been better prepared, I would have brought my bathing suit to soak in one of the therapeutic pools or to enjoy the dry sauna. Next time…
I was surprised to learn that most of their guests are from the area who are looking for an easy getaway, just like us. I love it that locals support the place. From the looks of the guests having dinner in The Attic and the group of ladies at breakfast, it appeared there were a lot of friends gathering for early holiday celebrations and gift giving.
One night was not enough to completely bring me the peace of mind (or boredom) I was looking for, but it did remind me that I need more of this. Regularly.
But then, we all do, don't we?
Travel Well,
Beth
Photo credit:
Cards by sskennel