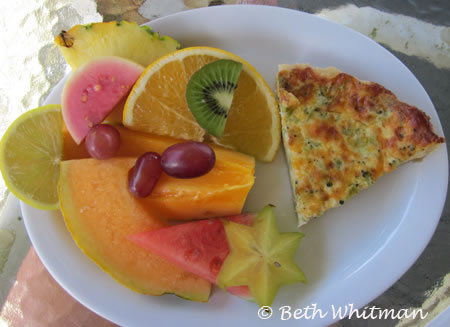 I've traveled to Kauai numerous times in the last few years with trips focused on the cuisine. Though I wouldn't exactly call myself an expert on this topic (for that you'll have to talk to my neighbors, David and Lee, who manage to spend more time in Kauai than anyone I know), but I have accumulated a bit of info about the restaurants. And, I get asked often about my favorite foodie finds that I figured I'd share them with you.
In no particular order, here are some suggestions for your next trip to the island:
Kalaheo Cafe and Coffee Company
This is my very favorite place for breakfast. Try the french toast (below) which is topped with shredded coconut and fresh fruit!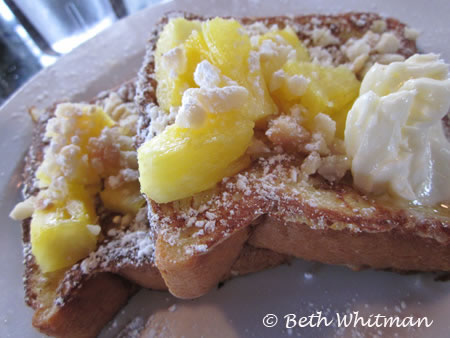 2-2560 Kaumualii Highway
Kalaheo, HI 96741-8316
(808) 332-5868
Shrimp Station
Great place to stop for a yummy lunch and has outdoor seating. Look for the line of people and the picnic tables.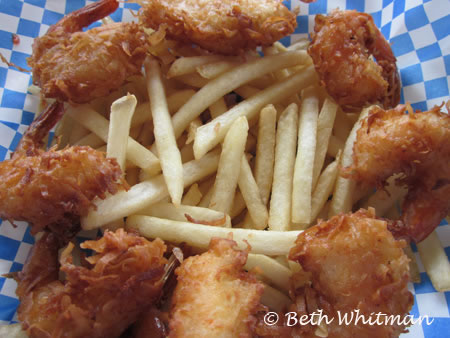 9652 Kaumaualii Hwy
Waimea, HI 96796
(808) 338-1242
Kauai Chocolate Company
This tiny shop is located in a small strip mall which you might easily miss if someone didn't tell you about it. It's got a limited variety of chocolates but all of them are totally delish, decadent treats. Located on the southwest part of the island.
4341 Waialo Road
Eleele, HI 96705
(808) 335-0448
The Beach House
Best view of the sunset on the whole island, this restaurant has top notch food but is a little pricey. Treat yourself to dinner so you can enjoy dusk and to watch all the newlyweds having their photos taken.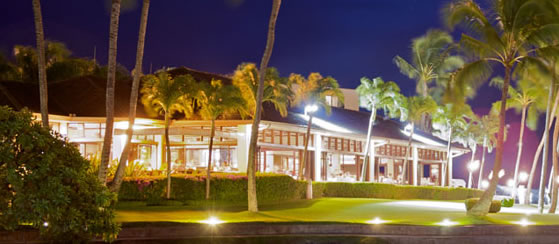 5022 Lawai Road
Koloa, HI 96756
(808) 742-1424
Hamura's Saimin Stand
Tucked away down a side street, Hamura's specialty is noodle soup. They've got bad diner-like service but apparently all is forgiven because the noodles are that good. Oh, and they have the BEST lilikoi (passion fruit) pie on the island. Rumor is that when Hawaiians visit from other islands, they pick up a whole pie from Hamura's to take home.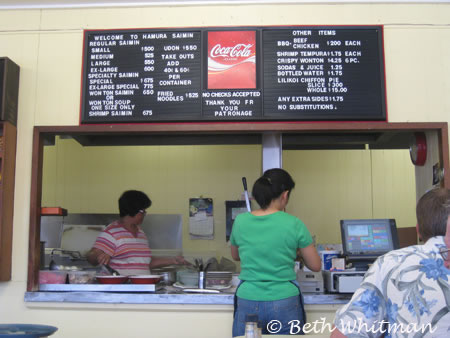 2956 Kress St
Lihue, HI 96766
(808) 245-3271
Java Kai
This little hole in the wall serves excellent juices, healthy food and super yummy breakfasts. It's a perfect stop after a long walk on the new oceanfront walk.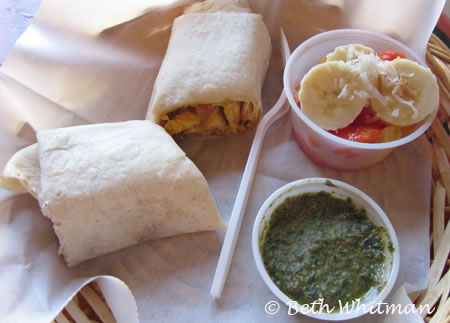 4-1384 Kuhio Hwy
Kapaa, HI 96746-1675
(808) 823-6887
Mermaid's
An even smaller hole in the wall right next to Java Kai. These folks serve up big plates of yumminess. One plate can easily serve two moderately hungry people.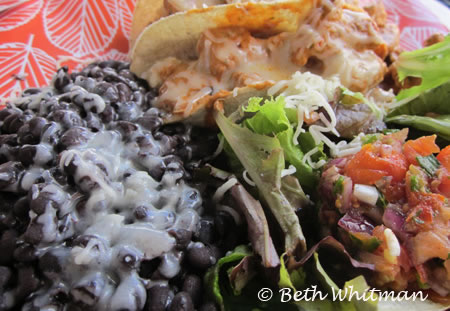 4-1384 Kuhio Highway # B1
Kapaa, HI 96746-1675
(808) 821-2026
Sweet Marie's Bakery
Located just near the Outrigger in Kapa'a, this little bakery has gluten free baked goods and the owner is a HOOT. You'll never miss white flour again!
4-788 Kuhio Highway
Kapaa, Hawaii 96746
808-823-0227
Postcards
This north shore restaurant is located in a house just before you get into Hanalei town. It serves up high quality, interesting food in a homey setting.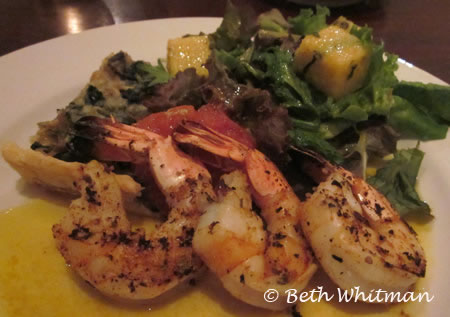 5-5075 Kuhio Hwy Ste A
Hanalei, HI 96714
(808) 826-1191
St. Regis Princeville
There are actually several restaurants located at the St. Regis. They are, admittedly, expensive, but well worth the price if you can afford it or are looking for a special evening out. There's a great view of the Bay from most everywhere on the property. If you don't want to spend the dough for a full meal, stop by the bar for a glass of bubbly and an appetizer!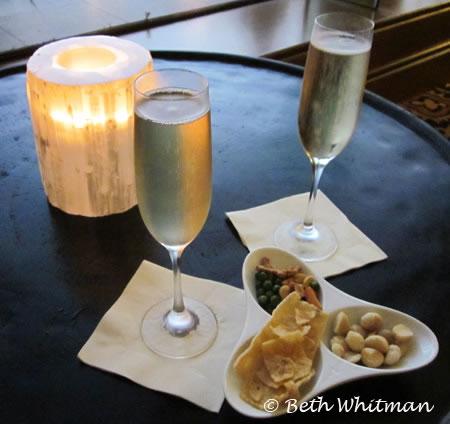 5520 Ka Haku Road
Kauai, HI 96722
(808) 826-9644
Oasis on the Beach
This hidden restaurant is located on the beach side of the Outrigger in Kapa'a. The chef here is AMAZING. He's in his early 20's and comes up with the most interesting food I've ever had.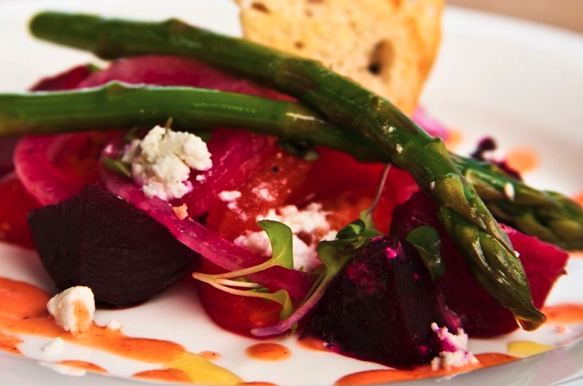 4-820 Kuhio Highway
Kapaa, HI 96746
(808) 822-9332
Josselin's
This restaurant is ALL the rage for locals and visitors. It has an amazing variety of food/tapas and interesting twists on everything. A must. Best enjoyed with a group of people so you can try more items from the menu.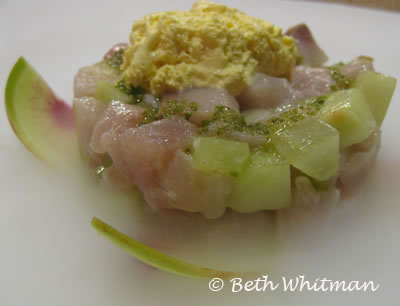 Kukui'ula Village Shopping Center
Koloa, HI 96756
(808) 742-7117
Cafe Coco
Tucked away off the highway in Kapa'a, this little cafe/restaurant has healthy food with a variety of desserts. It features music on some nights, outdoor seating and wonderful fresh food.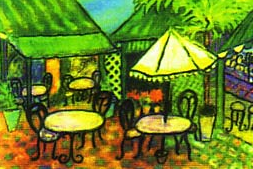 4-369 Kuhio Highway
Kapaa, HI 96746-1423
(808) 822-7990
Grand Hyatt Kauai
There are several fantastic restaurants at the Hyatt. My most recent find was the garlic waffle fries at The Dock (located by the pool area). One order is enough for two people. Try Tidepools or one of the other restaurants for a full meal. You can't go wrong.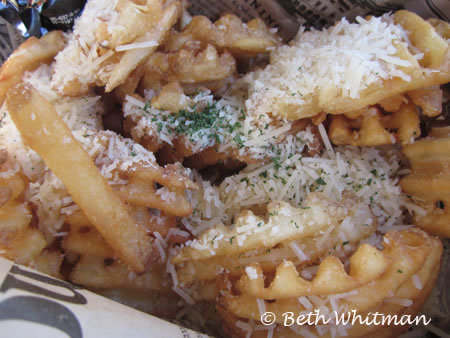 1571 Poipu Road
Koloa Kauai, HI 96756
(808) 742-1234
Ishihara Market
I'm sure that there are lots of places on the island where you can find equally good poke, but Ishihara's is my favorite. Head back to the deli area and just pick and choose which items you'd like. Then head across the street and eat at one of the picnic tables in the small park. It won't set you back much money and you'll have a fantastic variety of local favorites.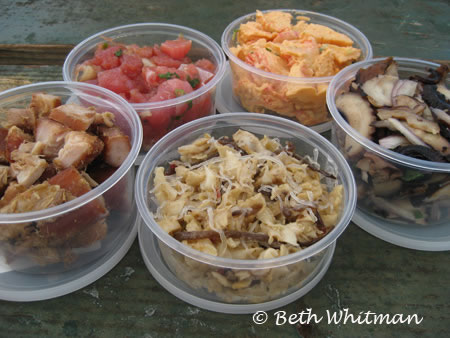 9890 Kahakai Road # A
Waimea, HI 96796
(808) 338-9915
OK – now get eating!
AND share your favorites that I might have missed 🙂
Travel Well,
Beth
Related links:
Limahuli Gardens on Kauai
Helicopter High on Kauai