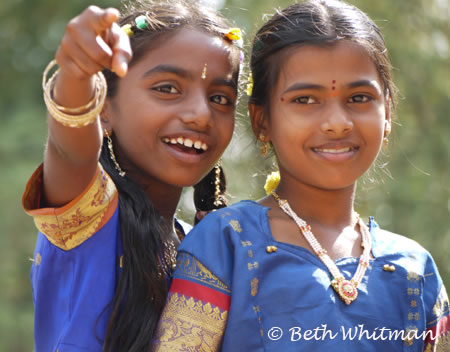 Last week I wrote about the temples of South India. There are countless temples in the region that are well worth a visit. And though I was concerned that I'd be templed out, they were all so different that I never did get bored.
But what made South India so very special, was the warm welcome from the locals. Here, you'll find a laid-back environment without the large number of rickshaw drivers following you down the road and vendors with their constant, "Madame, madame…" Which is exactly what you experience in the North.
For the most part, I felt pretty much left alone, except when someone was interested in our group and what we were doing in India. There just wasn't the constant harassment to buy something.
As a matter of fact, there was a lightness and fun that permeated the South, especially from the children! And I don't think it was only because we were there during Pongal, the harvest festival.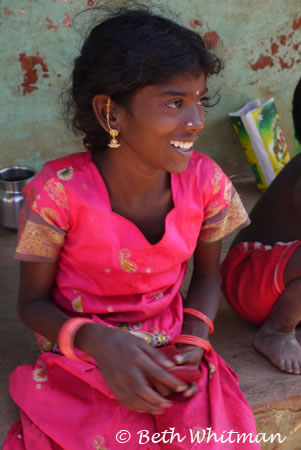 This young girl was all dressed up for Pongal, celebrated in the South over about 4 days' time.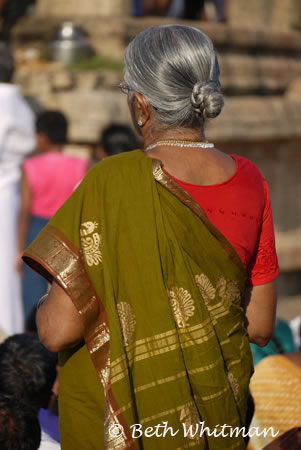 This woman captured my attention at a huge celebration at a temple in Thanjavur.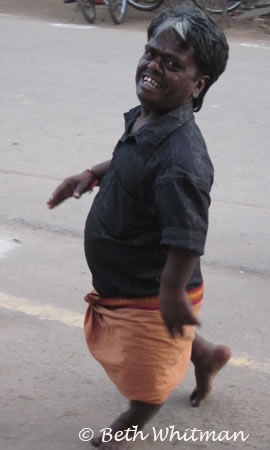 One of the most interesting and fun people we met along the way was this gentleman who became our guide at a temple (though he didn't officially work there, he was a great guide). He showed us all the best spots from which to snap photos, took photos of our group for all of us and even helped us find the rest of our group when a few of us got lost!
In a country where those with disabilities can often have a very difficult time, this gentleman made the very best of his life. And with all the tips I'm sure he was making, I think that he was doing quite well for himself!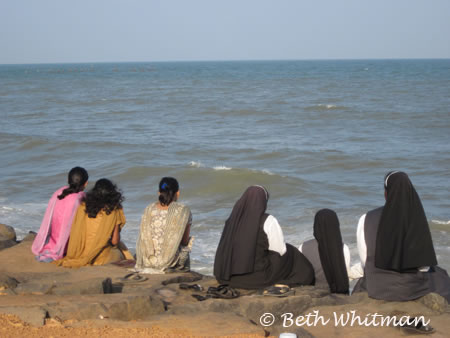 I was out for a walk one afternoon and found these nuns enjoying the ocean in Pondicherry. I loved the fact that they were sitting next to these women in saris. Common interests but oh-so-different.
I used to think that one had to go to the North in order to really experience India, but after this trip I realized the South is a fantastic introduction to the country. Kind of like India-light 🙂
Travel Well!
Beth
Related links:
North India Women-only Tour
Passports with Purpose Village
South India Temples
South India Tea Plantations