Can you grock this? It's how a hole is drilled for the placement of re-bar for the foundation of a home built by LAFTI. This is just one of 25 homes being funded by Passports with Purpose! I had the great honor of visiting our village in Kuranganni, Tamil Nadu, India, just a couple of weeks ago.
The village is located about 15 kilometers from the main LAFTI offices in Kuthur. It's a tiny little area down a dirt road. Well, down many dirt roads. To get there, I took an overnight train from Chennai to Trichy. I was then met by a LAFTI employee who had hired a driver to take us to Kuthur – about 3 hours away.
When we arrived at one of the homes in Kuranganni, the workers, who were all members of the community, immediately began a puja (prayer). They burned incense and offered bananas and oranges to the gods. Krishanammal (Amma – Mother – as everyone calls her), myself and the homeowners got to shovel some dirt into the foundation.
The best part of the LAFTI program is that each family is responsible for the cost and building of the foundation for their home. And then LAFTI (in this case, funded by PwP) funds the brick building itself. This is brilliant. It invests the family and the village in the process, both financially and emotionally.
The foundations are dug deep, making them quite stable. Amma pointed out many times that the government buildings aren't deep enough and their buildings can easily tumble as a result.
We drove around Kuranganni and visited numerous sites where the foundations were in various stages of being built. 15 had already been started and all 25 homes should be completed by the end of February!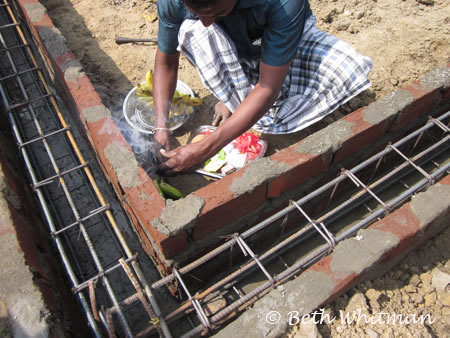 Here, the community is offering a puja at the corner of one the homes' foundations. Fruits and incense were offered to the gods.
Krishnammal Jagannathan, left, is known as Amma (Mother) to most. Here she prays with the owner of this soon-to-be-complete home.
The homeowner shovels the first bit of dirt into the foundation.
Me with Amma and another couple/owners of a home that's in the process of being built by LAFTI/Passsports with Purpose.
In truth, there are a number of men who are involved with LAFTI, but we all know it's the women who keep it all going 🙂 With me above are Amma and the women who run the office and kitchen at the LAFTI offices.
THANK YOU to everyone involved with Passports with Purpose in December. Whether you were a sponsor, a blogger hosting a prize, your company donated a prize, you gave $10 or you simply told others about PwP,  it was your efforts that is helping change the lives of this dalit (more commonly known as "untouchable") community! In a very real way, you are improving the lives of an entire village and you're showing them that people in a very far off land actually care.
Here's a really lovely video produced by one of our sponsors, Round the World with Us. They were instrumental in helping us raise our total of $64,000!!!
See other lovely photos at DeliciousBaby!
Travel Well!
Beth
Related links:
South India Temples
South India Tea Plantations
Pongal in Pondicherry
North India Women-only Tour