Prayer wheels are ubiquitous in Bhutan. No monastery, dzong, chorten or stupa are without them and many restaurants and hotels include them near their entranceway. They come in a variety of sizes, from small hand held versions that one carries with them to large ones that are bigger-than-life.
Some wheels have a bell attached and, as it's spun, the bell rings at each turn. Oftentimes, as in the one above, the wheel is found in a little "house" that's set over a river. The water rushes through, spinning the wheel and automatically rings the bell.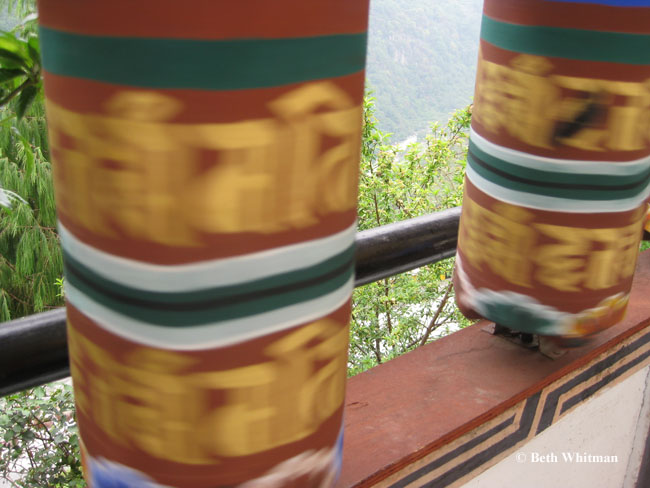 Other wheels might be found at hotels, like the ones above. In this case, there was a long row of them at the entrance and as one passed by, they could be freely spun.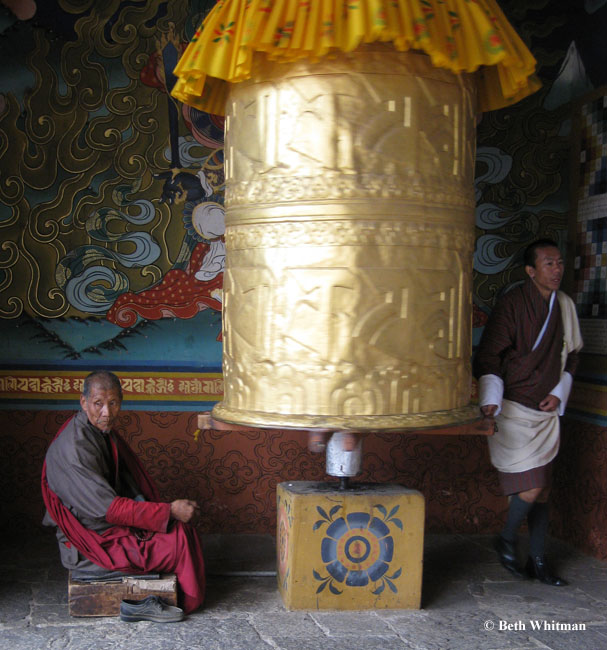 Worshipers spin the prayer wheels clockwise to spread goodwill and spiritual blessings. Mantras are painted on the outside of the wheel and are also written on paper that's placed on the inside. All in an effort to build up merit and good karma.
Travel Well,
Beth
Related links:
Bhutan Tour – Photography Tour with Brenda Tharp
Bhutan Tour – Buddhism Focused Tour with Beth Whitman
Photo of the Day: Men at Cao Dai Temple
Photo of the Day: Buddhist Bells
Photo of the Day: Himalayan High
Photo of the Day: Sitting Saddhu
Photo of the Day: Varanasi Saris
Photo of the Day: Bangkok Flowers
Photo of the Day: Bhutan Prayer Flags

Join other Wanderlusters and help make this the most popular women's travel blog by subscribing via email or RSS feed.