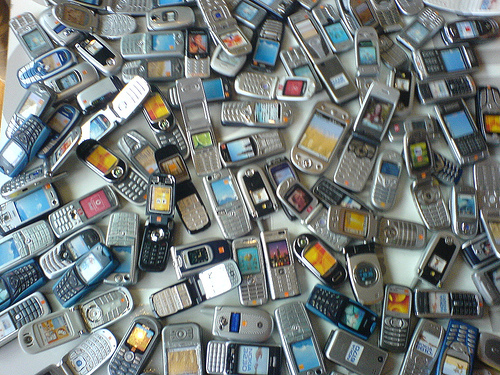 Using a cell phone while you're traveling is NOT as difficult as one might think. I learned this last month when I was in Bangkok attempting to find the best way to phone home.
While I did bring my primary cell phone with me for emergency use and to have access to my contact list, I also carried an older spare phone that I had lying around in a drawer. This was a phone for which I had long ago canceled my service with my provider, therefore the phone was free from any contract and considered "unlocked".
I knew that I needed a SIM card in order to access the local network in Bangkok, but where to find a SIM card? In India, telecom shops are found in every city and village. You have to fill out some paperwork and provide a passport photo of yourself (which they'll gladly take for you at the shop). You're then provided a SIM card which is (usually) placed behind the battery. You're given a set amount of minutes and you can then purchase more.
Cell phones are ubiquitous in developing countries – here, my rickshaw driver was using his to get another fare.
In Bangkok, I had been keeping my eye open for a cell phone shop so that I could purchase a card and have the freedom to call some of my contacts in Bangkok as well as make international calls if I wanted to. After not spotting any during my walks around the city, I asked the hotel desk clerk for some help.
"I'm looking for a SIM, card for my cell phone." I even spelled out SIM. It's unlikely that a hotel desk clerk in the U.S. would know what a SIM card was, I figured I'd have little luck with the clerk in Bangkok. I was wrong.
"Oh yes, just go to the 7-11 across the street."
"Really?" I asked, incredulously.
"Yes, they will have it."
I ventured across the street and showed the two young cashier gals my cell phone and made my request for a SIM card. They pulled out a card from a drawer and, because they didn't speak English and I speak little Thai, they showed me my options for how much money I could put on the card. I chose 200 baht. They installed it for me and another customer called my phone so that we could make sure it worked.
It was that easy.
Of course, if your cell phone is GSM-enabled, you can make calls directly using your carrier but this can be quite costly – really as much as a few dollars per minute (because you are roaming) depending on your provider. It'll do in a pinch, but shouldn't be your main source of communicating with home or in-country.
To make calls, you'll want to first determine whether your own phone has compatible technology with the country in which you'll be traveling. For example, the majority of cell phones use GSM technology but not all providers around the world support GSM. Check your provider's website before you depart to determine compatibility.
Here's a short primer from least expensive to most expensive options. This is geared towards North American cell phone users traveling abroad. This is a relative new area for me so I don't claim to know everything. If you've got some info you'd like to share, please do so, all my readers will appreciate it!
1. Carry your own cell and request that it be "unlocked" by your provider. Not all providers will do this for you and it may depend on your contract. For example, if you've passed year 2 of your 2-year contract, your provider may be willing to unlock the phone. A provider may also unlock your phone under special circumstances, such as if you are traveling abroad. Bottom line is that it never hurts to ask and to plead your case. They don't want to lose you as a customer by allowing you to use another SIM card, but if it's for traveling purposes, they may allow it.
2. Carry a spare cell. By traveling with a cell phone that is no longer associated with a mobile plan, the phone will be "unlocked" and you can simply add a SIM card and dial directly to local numbers or dial internationally. The local phone charges apply but this is generally FAR less than the cost of calling from your own phone while traveling abroad.
3. Prepaid cell phone. If you do not have a cell phone that can be used outside of your country, picking up prepaid cell phones is a great way to stay in communication with your loved ones when abroad.
4. Purchase a phone when you arrive at your destination. In many countries, particularly developing countries, cell phones are used on a pay-as-you-go basis. This means you won't have to buy into a bigger plan/commitment. You'll be buying the phone, but then can get a local SIM card for using the minutes.
5. Enroll in an international calling plan from home. If your family, friends or significant other will want to stay in touch with you while you're traveling, have them enroll in a long distance plan that provides inexpensive international calls. They'll be able to call you at a reduced rate and, often with SIM cards, minutes aren't used for incoming calls.
You might also consider text messaging as an inexpensive alternative. You'll likely be charged at a higher rate than if you were texting domestically, but it's still cheaper than phone calls. Making Skype calls from an internet cafe is another way of staying in touch with home cheaply.
Hope this helps in getting you started on that next trip!
Travel Well,
Beth
Photo credit: Gaetan Lee

Related links:
Understanding Travel Insurance
Booking Advice in Today's Climate
5 Healthy Travel Tips
10 Tips for Traveling Around the Globe
Tips for Staying Safe in Your Hotel
Join other Wanderlusters and stay updated on travel-related items by subscribing via email or RSS feed.