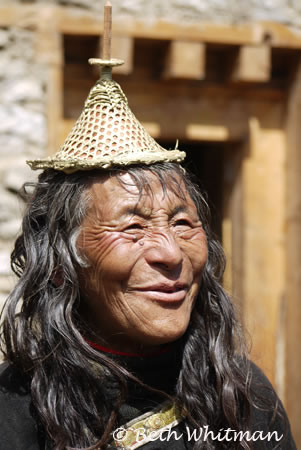 The local people at a destination capture my heart.
This beautiful, dear woman and her husband called us into their home as we walked by in the small village of Laya, in Northern Bhutan.
Of course, they wanted to sell us some handicrafts. But that didn't matter. We lingered and had our guide translate prices and explain exactly what the items for sale were made of and their purpose.
Though it doesn't have to always be a transactional experience, it's for moments like this that I travel and love remote regions and tribal cultures. Spending 15 or 20 minutes at someone's home, laughing with them and knowing that the purchase I just made may help put food on their table, is priceless.
Laya is one of the highest villages in Bhutan. The trek to get there is not one of the most well-trafficked paths (though it is on the famed Snowman Trek route). So the locals don't see as many foreigners as the villages on the more popular routes. And I love that. Really being off the beaten path.
The women in Laya are easily recognizable by their hats and their long hair which, unlike in other parts of Bhutan, they don't wear tied back. For the life of me I cannot figure out the purpose of such a hat – perhaps it's just a style thing. But they all wear them.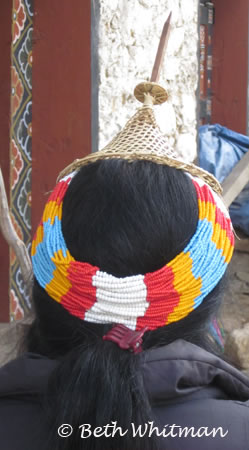 And while it's fun to look at from the front, it's the back that "makes" it. The hats are held on by numerous strings of beads. This one has a large quantity while many have just 5 – 10. Going price (for foreigners) for such a hat is about $35 U.S. I know you want one 🙂
Travel Well!
Beth
Related links:
Bhutan Laya Trek Photos (part I)
Going to the Temple and We're Gonna Get Married
Best Books on Bhutan