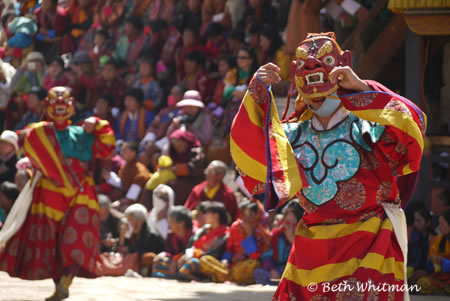 The tsechu is central to Bhutan's cultural heritage and preservation. These religious festivals are held regularly throughout the year, with each region holding their own tsechu. People come from surrounding communities to meet, watch and bond over these spectacular Buddhist events.
The tsechus are typically held in the courtyard of the local monastery and the crowds gather to watch for hours on end.
Dancers are highly trained and talented. Many of the male dancers spend much of their time jumping, running and twirling. Usually, they perform a series of traditional vignettes that either exemplify life in Bhutan or are morality stories. Drums beat and horns are blown as an accompaniment. In the case of some dances, they are so sacred, it's believed that you may wash away a lifetime of sins just by observing them :-).
Dances are performed by layman, monks, and gurus and involve ornate costumes and masks.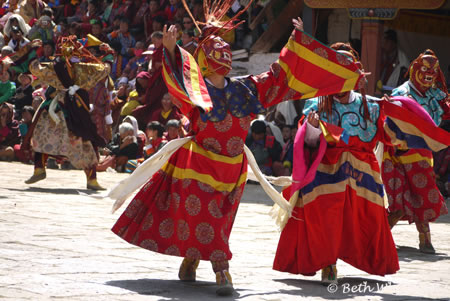 Tsechu literally means "day ten" and the festivals correspond with the tenth day of the month of the lunar calendar. In March, we attended the Paro Festival (where these photos were taken). It's one of the largest and most popular of the tsechus in the country and is often attended by the King (we missed him on this trip but I've seen him on past visits to this tsechu.
We build our tours around at least one of the festivals because they are a magical event (and because most of us are looking to wash away those sins – HA HA!).
Travel Well,
Beth
Related links:
Punakha Dzong in Bhutan
Women-only Tours to Bhutan
Food in Bhutan