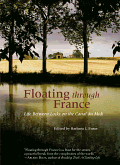 Although not completely what I expected, Floating through France was still a treat . . . and an inside peek at a long time dream. While never exposed to sailing per se, the idea of living on a barge turned floating loft has been appealing to my husband and I for some time now. Doing a trial run via the canals of Europe seems like an excellent way to test drive the lifestyle. But what's it like? Who do we call?
Floating through France provides that information and more. A compilation of travel essays based on a writers' workshop conducted during a cruise down the Canal du Midi, this title  (edited by Barbara J. Euser) includes a variety of perspectives. Also present are a sprinkling of poems, photo-inspired sketches and contact info for a number of boat rental companies if you want to try a similar adventure for yourself and some friends. A few of my favorite selections?
The Gift – Christie Marcus tells of seeing Paris through new eyes again during a visit there with her niece. Seeing  a place you've been to before with new travelers can be refreshing that way.
April Orcutt's Sunday Market Largesse – I too love to stroll food markets snapping closeups of vegetables, bread and fruit. This particular essay spoke to me in that regard. It also speaks to the fact that we are all capable  of capturing some seriously fabulous souvenirs without having to lug anything extra home.
Searching for Bread – Also by April Orcutt, this essay deals with an experience I'm sure every traveler has had. We've all been there, haven't we? Spending an entire day searching for something so basic you never in your wildest dreams expected it to be difficult? I hear you, April.
Fish Out of Water, by Lynn Brenecky. Thank God. I'm not the only one obsessed with swimming and having pool access when I'm on a more traditional vacation. Go Lynn!
Ann Ure's quest for the ultimate cassoulet. After combing France to find the best and researching numerous resources back home to recreate it, Ann comes to the conclusion that it is just pork and beans, after all.
All in all, an enjoyable read and definitely worth the time. Those wanting to try the canal boat experience for themselves will find it particularly worthwhile. Thanks, Travelers' Tales.
Photo Credit: Travelers' Tales