What a treat I've got for you this week here at Food Freeway! Caldo Verde, a common Portuguese soup made with kale, potatoes, chorizo, and a handful of other tasty ingredients, is the featured recipe today.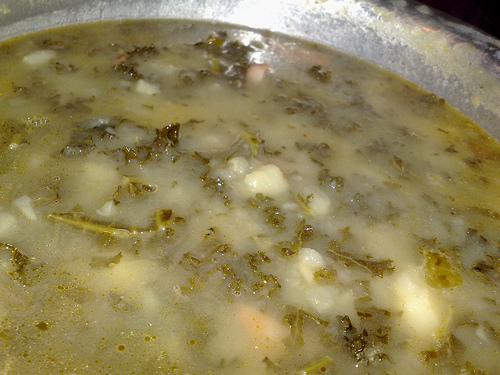 The recipe, below, was adapted from BBC Food – take a look at it here. Have you ever tried Caldo Verde? Give it a try and let me know how it turns out! (Want to know more about Portuguese cuisine? Check out the original post!)
Caldo Verde
Adapted from BBC Food
Serves 8
Ingredients:
¼ cup olive oil
2 large yellow onions, finely chopped
4 cloves garlic, smashed and minced
1 chorizo sausage, cut into small chunks
6 large potatoes, peeled and diced
6 cups vegetable or chicken stock
2 bay leaves
Salt and pepper, to taste
1 large bunch kale, finely chopped
Instructions:
1) Drink some port (this step is in the original recipe, it's clearly important).
2) Heat the oil in a large pan over medium heat, and then add the onions and garlic. Cook until translucent, about 5 minutes.
3) Add the sausage and continue to cook for another five minutes.
4) Add the potatoes, stir, and continue to cook for another 10 minutes.
5) Transfer the mixture to a pot and add the stock, bay leaves, and salt and pepper. Cook until the potatoes are soft and then mash them into the broth (alternately, put the potatoes in the blender to puree).
6) Add the kale and cook for about 5 minutes, or until it's tender. Serve immediately.
Next up on Food Freeway: Indonesia! Have you ever been to Indonesia? If so, what was your favourite dish? Also, it's Wanderfood Wednesday, so be sure to head over to Wanderfood for more delicious reading material!
* Note: Today's photo is by Roland Tanglao. Check out his full photostream here!