Montserrat is a tiny island in the Caribbean; it's lush and green, full of rich history and culture, and evidently, full of delicious food.
Montserratian dishes contain a touch of European (especially Irish), a splash of African, and a dash of Caribbean flavour. Seafood is often the star of most meals, but meat and poultry dishes are also very common – especially goat meat. In fact, their national dish is Goat Water, a stew made with goat, breadfruit, and green papaya. But, that's not what we're going to be making for the recipe of the week as it's too tough to get access to goat meat. If you can find some and would like to try your hand at making Goat Water, here's a recipe from the Caribbean Choice website.
Today we're visiting the sweeter side of Montserrat with Coconut Mousse. This decadent dish is easy to make, and the result is a creamy, tropical flavoured dessert that is perfect for a balmy summer evening with friends. If you can't sink your toes into the sand of the tropics, at least this dish can bring your taste buds there!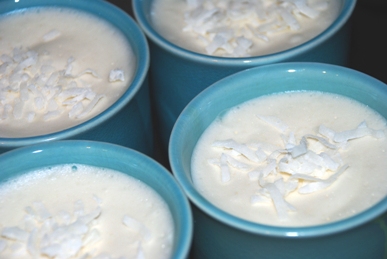 Coconut Mousse
Serves 4
Ingredients:
1 cup 3% milk
1/2 cup fresh grated coconut
1 envelope unflavoured gelatin
3 large eggs, separated
½ teaspoon cornstarch
Scant ¼ teaspoon salt
Generous ¼ cup icing sugar
4 teaspoons dried, unsweetened shredded coconut (garnish), optional
Directions:
In a medium saucepan, bring the milk to a gentle boil over medium-high heat, whisking constantly. Add the coconut and reduce the heat to a simmer. Cook for 10 minutes, stirring often, and then remove from heat. Add the gelatin and stir, and then pour into a large bowl.
In a small bowl, whisk the egg yolks, cornstarch, and salt. Slowly add this mixture to the large bowl, whisking as you pour. Set aside and let cool to room temperature, about 30 minutes.
Place the egg white and sugar in a medium bowl and whip with an electric mixer until stiff peaks form. Gently place the meringue on top of the ingredients in the large bowl and fold in with a large spatula. Either place the mousse in a medium sized serving bowl or divide among four small dishes and refrigerate for at least 1 hour, up to one day. Sprinkle with shredded coconut before serving.
Next up on Food Freeway: Guadeloupe! Have you ever been? If so, tell me about it! Did you like the food?
If you're in the mood for more foodie reading material, be sure to head over to Wanderfood Wednesday!