I've been a bit grumpy these past couple of months.
I love Seattle. But there's a caveat. I love Seattle more when we have beautiful summers. It's what makes the 9 dreary months of the year worth enduring.
These past 2 summers, however, have been pretty cool and rainy. Recently, I've even been tempted to turn the heat on in the house. But, seriously, who could turn the heat on in July?
I've posted my frustrations on Facebook and hear a big "Amen" from Seattleites and "Please send it this way" from the rest of the country.
I know that I shouldn't allow exterior events affect my happiness, but my mood immediately changes when the sun comes out and I am so happy. Really. I just need 15 minutes.
Part of my "problem" this year is that I'm going to be gone for much of the month of August while I'm traveling in Papua New Guinea. So, for me, I feel like Seattle's summer is over before it's even begun. By the time I return home in late-ish August, I'll be lucky if temps reach the 80's and it's likely that the nights will be cool enough that we'll have to shut the windows.
Having said all that, I finally managed to see through my own whining a couple of days ago and realized that there are huge swaths of people across the country in desperate need of some relief from the oppressive heat. As bummed as I am about our lack of summer, there are millions of people who would be thrilled to have weather in the 70's and, dare I say, the overcast skies we've been living with.
So how 'bout this? I can't bring the cool weather to you, but how 'bout y'all come on out to visit us? Sweltering in Chicago? Melting in Hot-lanta? Dripping in Detroit? Come to Seattle! We're really a delightful place to visit – quite friendly and a huge variety of food. Good coffee, too.
And to lure you, here are some of my favorite spots that you should visit:
No visit to Seattle is complete without a visit to Pike Place Market. This is the famous fish stall that's featured in commercials where you order your fish and then duck out of the way because the guys toss and wrap 'em up.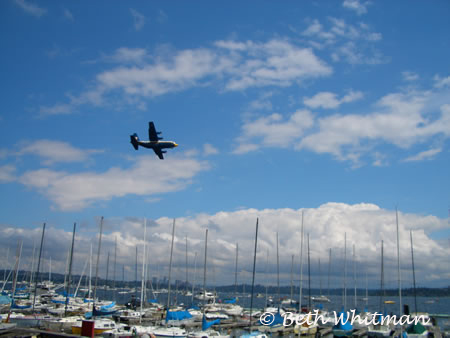 If you're lucky to be around over the 1st weekend in August, you'll be here for Seafair, when the Blue Angels and other interesting aircraft perform over Lake Washington.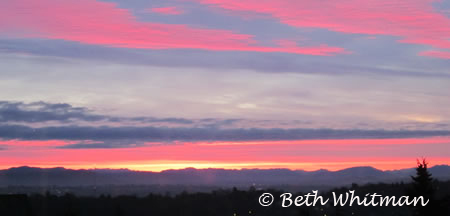 Get an early start to your day and you might catch a sunrise like this. I'm lucky to have this view from our living room window (of course, it doesn't always look this spectacular!).
Ferries run regularly from Seattle to the many islands in Puget Sound. You can walk aboard or drive and make a day of traveling around the outskirts of the city.
If you do hop on a ferry and head away from the city, you can venture up to Whidbey Island and over Deception Pass, where you'll cross a bridge back over to the mainland.
Mount Baker dominates the skyline in the Bellingham region a couple of hours north of Seattle.
OK – that's your mini tour.
Convinced yet? I hope so. While I'm waiting for you to visit, I'll try not to complain and instead remember why I've been here for more than 21 years.
And if you're thinking about a summer vacation elsewhere… check out some other photo essays from my fellow Travel Blog Mob peeps.

Facts About Cinque Terre and the Italian Riviera for Families: Ciao Bambino
Top 10 Beach Towns on Michigan's Sunset Coast: Wandering Educators
Our Best Days Ever: BootsnAll
3 Cool Ways to Share Photos While You Travel: Spot Cool Stuff
Travel Well,
Beth
Photo credit:
Frown: GlennFleishman