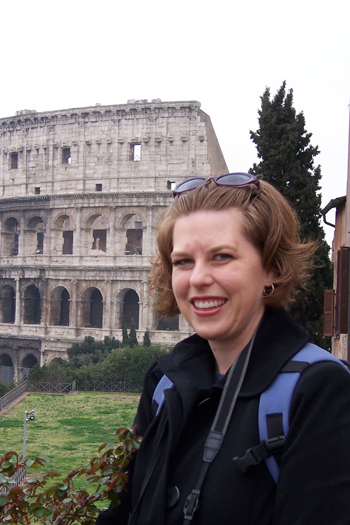 Before she learned how to read, Angela Nickerson refused to eat broccoli and aspired to be a tap dancing nurse. However, once her mom taught her to read, Angela's medical aspirations expired. Her favorite books were those set in "the olden days" in places far more exotic than Dallas, Texas. In her thirties Angela translated that passion for history and travel into a column of local biographical profiles as well as her book, A Journey into Michelangelo's Rome.  Her second book, Rome's Angels & Demons: the Insider's Guide, was published in 2009.
When she was fifteen, Angela's grandparents, both worldly travelers, gave her a life-changing birthday gift: they took her to Europe. Together they took a nearly-nude summer sauna in Finland where the sun hardly set. They explored Red Square in Moscow, visited one of the first privately-owned restaurants in the USSR, and brushed their teeth with Pepsi. The three-country tour ended in England with a trip to the Tower of London and the purchase of some fantastic Princess Diana kitsch.
After graduating from high school in 1991, Angela went to St. Olaf College in Minnesota. The cold, snowy campus offered the perfect place for a bookish girl with a passion for research to blossom. Angela's parents impressed upon her the need for a reliable career, so after college, she went on to Washington University in St. Louis where she earned a Masters of Arts in Teaching. Teaching at small, private schools, she applied her love of art and music, history and travel in her classroom.
Along the way she adhered to her mantra: just GO! She won a Fulbright Memorial Fund award and spent a month in Japan studying the Japanese educational system. Not long after Angela's husband asked, "What would you think about moving to California?" And away they went. She has taught writing in Korea as well as in cyberspace. She has marched in the Macy's Thanksgiving Day Parade, escorted a variety of performing groups through the US and Europe, and jumps on a plane any time she can.
Angela married an Italian-American with memories of playing as a child at Ostia Antica and romping through the Colosseum. Now she enjoys traveling to Italy several times a year — often escorting small groups of people. In doing so she combines the great passions in her life: art and history, travel and, of course, writing.
However, Angela still does not like broccoli much.
For more information about the contest: