Many boys join monasteries when they are very young and spend their lives pursuing a path to enlightenment. This young monk was at the dzong (monastery) in Trongsa.
Integral in every Bhutaneses' life is the spinning of prayer wheels, such as these. When one walks by a prayer wheel, it's common to give them a spin – sending good spirits onward.
Here, our guide, dressed in a traditional kira, gives a wall of prayer wheels a spin.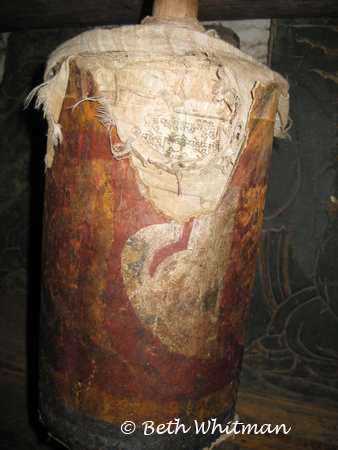 Inside each of the prayer wheels is a… prayer. As the wheel gets spun, these messages get sent out to the world.
On the grounds of our hotel in Trongsa, an altar stood where a caretaker came to pray and light incense.
Gongs are rung to announce prayer sessions for the monks. This gong was hanging outside of the main temple at the Trongsa dzong.
Monks share simple dwellings at the dzongs. This monk was chanting his prayers in his small room, shared by 3 other monks at Gangtey Gompa.
See more lovely photos at DeliciousBaby's Photo Friday!
Travel Well!
Beth
Related links:
Unique Architecture of Bhutan
The (Bhutan) King and I
Bhutan Photography Tour – September, 2010
Eastern Bhutan Trekking Tour – October, 2010