There's nothing like a potato fresh from the garden, or garbage bin! Yes, that's right, we grow our spuds inside a plastic garbage can. if you want to learn how to do this yourself, you can read a post I wrote a few years ago, here.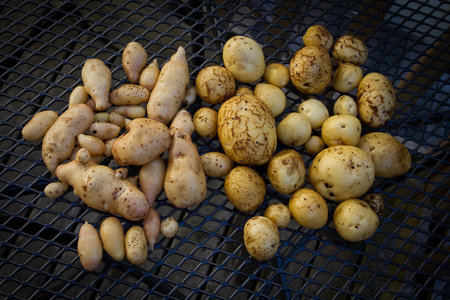 This year's crop was not one of our finest, but that didn't stop Little Bird from enjoying the annual fall "dumping."  After a season of grown, the plants have died back which means it's time to dump them out and scour the soil for potatoes (Note:You can reuse the soil in flower beds, just not in garden beds where other edibles are growing).
Whoop. Whoop. There they go! This part always feels magical to me, because—unlike vegetables that grow above ground—you can't see tubers growing, so you don't know what kind of crop you've got until the can goes over.
We always dump our garbage bin onto a tarp. This way, it's easy to sift through the soil, pick out the potatoes and then pour the soil back in the garbage bins for later use elsewhere in the garden.
Found one! The potato treasure hunt is on.
Into the bucket they go, one by one. I'll brush them off and store them in a cool, dry place to harden them off a bit (assuming I have enough to do that, otherwise we just wash and eat them).
And there goes potato harvest 2014. Until next spring…
Take the road less traveled, Beth
Add a comment