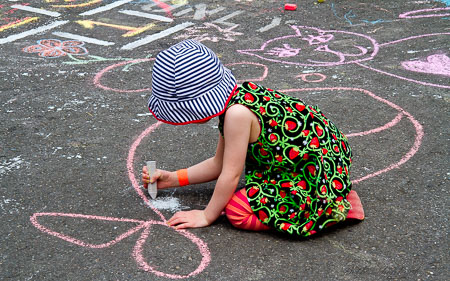 Attention Seattleites (and visitors to the Emerald City this weekend): Hop on over to the CD (Central District) for the 2nd annual Hopscotch CD event. August 23, 2014 9-6. Between Jackson and Union.
2.9 miles of hopscotch fun! Yesterday I watched as the temporary path was laid down by volunteers before the event, using giant stencils and a "chalks" made out of mostly cornstarch, a dash of flour and sugar and bit of food coloring. It lasts 3-4 rains, so I am crossing my fingers Seattle's lovely dry-weather streak continues.
And—drumroll—if you want to be part of a shot at the attempt to break the world record for most hopscotchers playing at the same time, come to Centerstone (18th and Cherry) at 1:00 p.m. to sign up (record-breaking attempt scheduled for ~2:00). I was there last year and we were just shy the number of attendees needed. Maybe this year?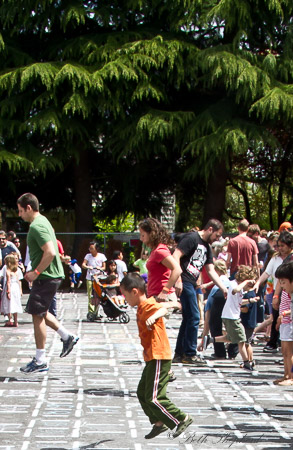 Hopscotching aside, there will be all sorts of neighborhood fun: sidewalk sales, garage sales, games, story time in the park, live music, free gourmet hotdogs! And, after you hopscotch yourself silly, hop over the the after-party carnival sponsored by the CD Association: 4-8 pm featuring the incredible Garfield High School Jazz Band!I hear there will be a beer garden for adults and free ice cream for kids.
You can find more details on the Hopscotch CD website: http://www.hopscotchcd.com/. Or join the event on Facebook: Hopscotch CD2.
Hopscotch the road less traveled, Beth
Add a comment