Seven years ago, I went to a travel event. There I met Beth Whitman, founder of Wanderlust and Lipstick, listed as number 40 of top travel blogs in the world. We got to talking. I mentioned I love to write and was hoping to start a blog. Oh, and I planned to visit Armenia a couple times to adopt a child. Maybe I could segue my travels to this tiny little-known country into some of the  posts I wrote? Beth gave me her business card. One thing led to another and Pampers and Paklava was born.
Flash forward seven years, six trips to Armenia, one trip to China and Tibet, travels to London, Amsterdam and Paris, visits to Baja and Hawaii…and a lot of exploration in the Pacific Northwest, my home sweet home. I've now been a blogger longer than any paid job I've ever held. Since I pressed 'publish' for the first time on April 13, 2009, I've written 665 posts!
Blogging is utterly integrated into the fabric of my life. I can't imagine not blogging, so I'll be honest I wasn't the happiest of campers when Beth announced she would be making big changes to her website in 2016, and no longer publishing the blogs on her site. But change, even unanticipated change, can be a catalyst! And maybe, after seven years, it was time for me to stretch my wings and leave the nest.
I am enormously grateful to Beth for the opportunity I've had to be a WanderBlogger, posting alongside a community of amazingly talented women. My writing, research I've done for posts, photography and of course travel—all of it–has brought me tremendous joy, satisfaction and pride. So it makes sense I feel sad this chapter in my life has come to a close.
That said, I am truly excited about the adventures and discoveries that lie around the corner. Who knows where this path will lead? Goodbye Wanderlust and Lipstick and thank you–it's been a spectacular voyage.
IT'S OFFICIAL!! Come say hello on my NEW WEBSITE:
Or follow me on: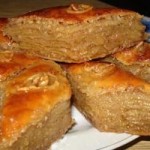 Happy Trails,
Beth, aka Pampers and Paklava